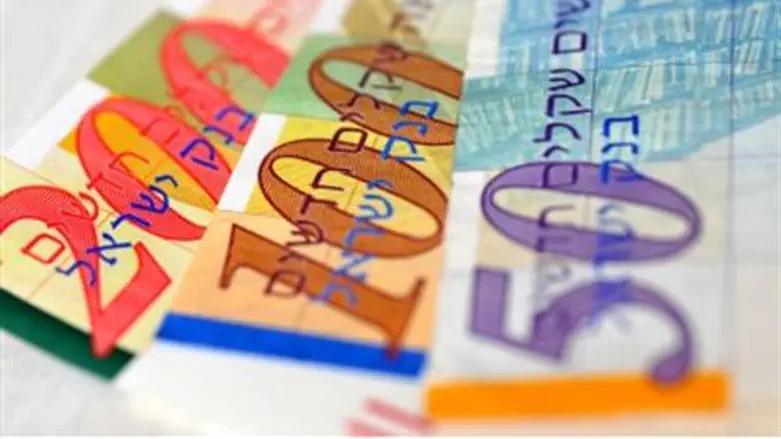 Israeli currency (illustrative)
Israel news photo: Flash 90
The government will vote Sunday on a new series of bills that the Bank of Israel plans to issue. The proposed designs for the bills will be presented to the cabinet.
Among those to be honored on the new bills are Hebrew-language poets Leah Goldberg, Natan Alterman, and Shaul Tchernichovsky.
Minister of Trade and Labor Naftali Bennett has noted that the bills showcase figures of European Jewish (Ashkenazi) heritage, and has called to add bills that celebrate famous personalities of Spanish Jewish (Sephardi) and Middle Eastern Jewish (Mizrachi) descent as well.
"This morning during the cabinet vote I will insist that they also include a Sephardi poet or poetess on the new bills," Bennett wrote on his Facebook page.
In an individual tribute to Spanish Jewish poetry, Bennett quoted the famous poem by Rabbi Yehuda Halevi:
"My heart is in the east, and I in the uttermost west--
How can I find savour in food? How shall it be sweet to me?
How shall I render my vows and my bonds, while yet
Zion lieth beneath the fetter of Edom, and I in Arab chains?
A light thing would it seem to me to leave all the good things of Spain --
Seeing how precious in mine eyes to behold the dust of the desolate sanctuary."
"This poem was written in the Middle Ages, and expresses the Jews' eternal longing for the land of Israel," Bennett said.