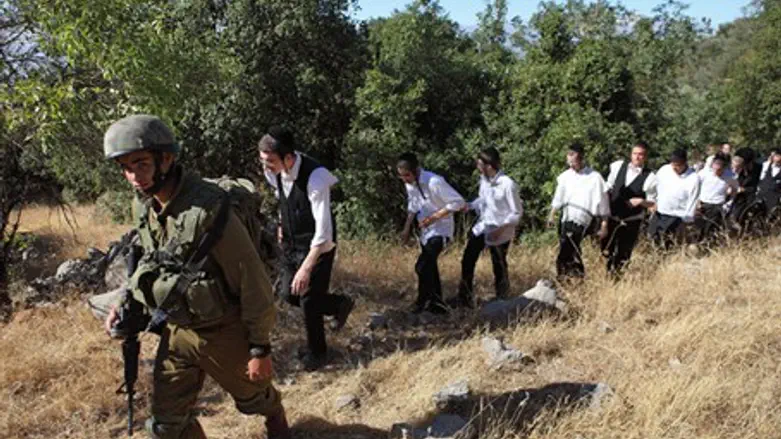 An Israeli soldier escorts ultra-Orthodox Jew
Israel news photo: Flash 90
Activists who favor universal military enlistment for Israeli men are concerned by the Yesh Atid party's agreement with Likud Beytenu. The Forum for Equal Share in the Burden warned Sunday that the proposal may have no real effect.
"The optimistic assumption that it will be possible to start obligating hareidi men to serve in 2017 has no basis in political reality," the group said. "In another four years there will be a new government, and the first thing the hareidi parties will demand is the cancellation of the [enlistment] law."
The Forum praised Yesh Atid head Yair Lapid for "putting the subject of equal share in the burden of service as a top priority." However, "we are very concerned by the proposal that was published."
"We must remind Lapid that last summer more than 30,000 Israelis took to the streets to protest Ya'alon's proposal," members of the group added. "Now this proposal is coming in the back door."
Yaalon's proposal lacked teeth, they said. "It has no criminal sanctions for draft dodgers, and no reduced budgets for yeshivas – everything is voluntary." Lapid's lacks a realistic timetable, "Lapid's plan for a period of more than four years is not realistic in Israel's political reality," they argued.
The Forum also called to discuss not only hareidi men, but hareidi women. "Why should the topic of hareidi women remain a subject that is not talked about? Why not give women the chance to at least do civilian service? Why force them into a life without giving to the community – why decide for them?"
Pro-enlistment activists are planning to meet with top officials in the new government in the upcoming days to discuss enlistment. Among those they hope to meet with are Yair Lapid, who is to be Finance Minister, Tzipi Livni, the Justice Minister-to-be, and future Foreign Affairs and Defense Committee head Avigdor Lieberman.