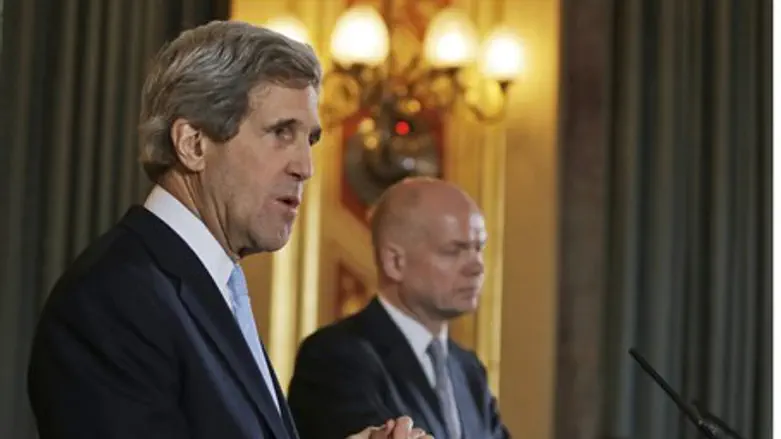 US Secy of State John Kerry, UK Foreign Secy
Reuters
U.S. Secretary of State John Kerry has announced the United States will provide $60 million to hand-picked Syrian rebel groups.
Kerry said the aid, to be provided "immediately in non-lethal assistance" would come in addition to "further steps" to be taken in working with the opposition fighters.
The American secretary of state made the statement at a meeting in Rome of the Friends of Syria following talks with Syrian National Council (SNC) leader Ahmed Moaz al-Khatib. The rebel leader had earlier threatened to boycott the meeting to protest the foot-dragging on support by Western backers.
Syrian President Bashar al-Assad is a "desperate leader," said Kerry, who praised the SNC as the sole legitimate voice of the Syrian people. He emphasized Syrian bravery in facing "brutal regimes" and Iranian forces – possibly also an oblique reference to Hizbullah guerrilla fighters as well as the Syrian Army and Iranian Revolutionary Guards.
"No people should live in fear of their so-called leaders," Kerry said. "We must meet the moment." Kerry added that the U.S. would for the first time aid the rebels with food rations and medical supplies, and promised Washington would take "further steps" to help.

The announcement was also a blunt message that radical Islamist groups, including the 13-member  Islamic Front for the Liberation of Syria, are not included on the list of those to receive support. 
Many of the coalition's member groups are linked to the international global jihad Al Qaeda terrorist organization. Moreover, the coalition split off from the main body of opposition forces some time ago.
Al Nusra Front is currently banned in the United States, appearing on the official list of terrorist organizations. The Islamic Front for the Liberation of Syria rejects any form of cooperation with the mainstream Syrian National Coalition (SNC) due to its ties with "foreign" Western nations .
On Saturday, the SNC is slated to hold elections for a government-in-exile which will choose a prime minister and a cabinet to begin the tasks of administration over areas in Syria which opposition forces now control.
The UK formally joined the United States on Thursday in its decision to train and equip opposition forces in their fight to oust Syrian President Bashar al-Assad from power.
UK Foreign Secretary William Hague met in Rome to discuss the issue with members of the mainstream Syrian National Council (SNC) ahead of his meeting with Kerry at a gathering of the Friends of Syria, making good on a promise he extended last summer.  At that time, Hague had pledged an extra five million pounds Sterling ($7.8 million) in non-lethal aid, to include medical supplies, communications equipment and body armor.
Hague had managed to persuade European Union leaders to tweak a sanction against weapons supplies to Syria in order to allow the Allies to provide armored military vehicles and body armor, as well as military training.