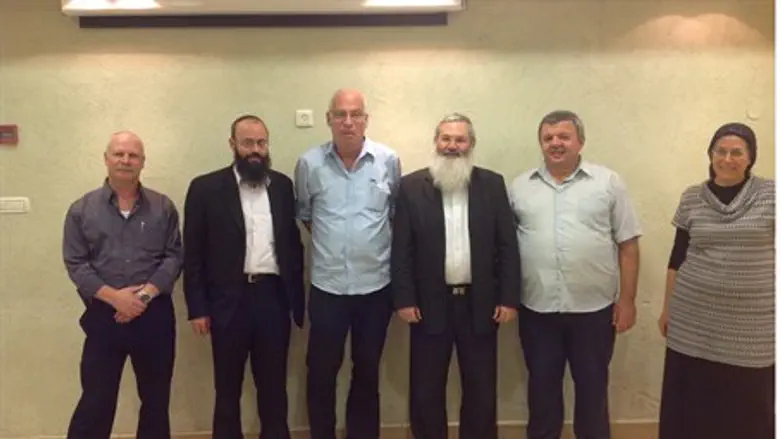 The National Union's top six
PR photo
After previously voting to place MK Uri Ariel at the head of the National Union party, members of the Tekuma Central Committee chose the party's list for the upcoming Knesset elections on Sunday evening.
Ariel is followed in the number two and three spots by Rabbi Eli Ben-Dahan, former director-general of the rabbinical court system and Zevulun Calfa, former chairman of the Gush Katif Residents' Council. Orit Strook, chairwoman of the Yesha Human Rights organization, was placed in the fourth spot, and Rabbi Hillel Horowitz, one of the leaders of the Hevron Jewish community, was placed in the fifth spot. Rounding out the top six is Nachi Eyal, Director-General of the Legal Forum for the Land of Israel.
MK Yaakov "Ketzaleh" Katz, who stood at the helm of the party in the 18th Knesset, was not placed on the list. Three weeks ago Katz asked the central committee to place him in the seventh spot on the list.
Ariel told Arutz Sheva before the vote, "This evening, we will choose our representatives for the next Knesset and with this list, we will sit with Jewish Home chairman Naftali Bennett and seal the final unification."
Habayit Hayehudi (Jewish Home) and Ichud Leumi (National Union) parties, if unified, are expected to reach at least 10 seats in the 19th Knesset, according to polls. The parties both represent a heavily religious-Zionist voter base and are considered right-of-center, with the Ichud Leumi a more yeshiva-oriented party.
They intend to widen their voting base by reaching out to pro-tradition (known as msorati) Zionist Israelis and have a candidate representing that sector in third place on the Jewish Home list.
The Jewish Home held its primaries last week. The four candidates who received the most votes were former Knesset Member Nissan Slomiansky, Ayelet Shaked, incumbent MK Uri Orbach and Avi Wortsman, deputy mayor of Be'er Sheva.
"I hope we can run together with MKs Michael Ben-Ari and Aryeh Eldad, but the chance of that happening is decreasing," Ariel told Arutz Sheva. "It would be a shame to have a rightist party that will throw away votes because it won't pass the threshold."
Last week, Ben-Ari and Eldad of announced that they are splitting off from the National Union and forming a new faction, "Power to Israel."
Both MKs decided to split off from the National Union out of the understanding that the joint list with the Jewish Home would place them in an unrealistic spot to be in the next Knesset.