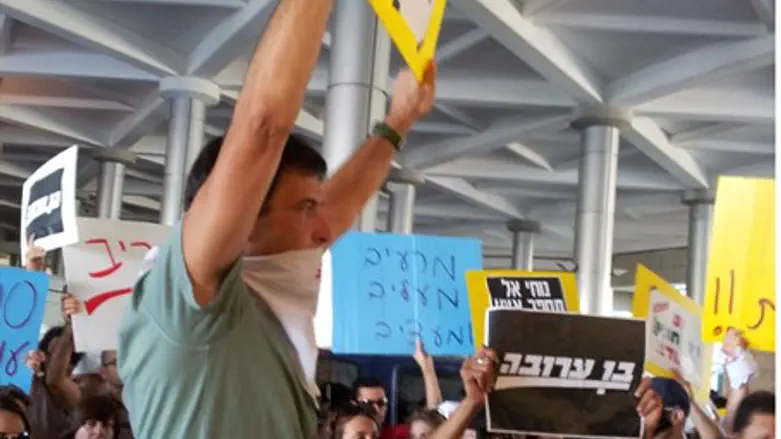 Maariv protest
Yoni Kempinski
Daily newspaper Maariv's employees announced that they will not work Monday and that the Yom Kippur edition of the paper will therefore not be published. The step is in protest of the newspaper's sale to Shlomo Ben-Tzvi, who also publishes the right-of-center Makor Rishon newspaper.
Hundreds of employees marched in Tel Aviv Thursday to protest the sale, fearing massive layoffs. They entered the building that houses the offices of IDB, whose owner, Nochi Dankner, sold the paper to Ben Tzvi. According to Globes, some of the protesters managed to block the building's elevators for a while.
Maariv Holdings announced Thursday that the seller and buyer intend to make sure that  over 1,400 employees – who make up about 79% of the total employees – will continue to be employed. 
A spokesman for Shlomo Ben-Zvi confirmed the deal Thursday.
"In light of this deal, we have purchased Maariv from Nochi Dankner's Discount Investment group for 74 million shekels ($19 million/14.2 million euros)," Udi Rajones told AFP.
He said some 1,400 employees working in printing, distribution and administration would keep their jobs, along with "around 300 members of the editorial staff."
At the end of 2011, Maariv reportedly employed just over 2,000 people including 377 editorial staff, 136 administrative staff, 177 in its printing operation and another 1,327 in distribution and marketing.
Much of Maariv's staff opposed the sale because of fears that some 1,600 people could lose their jobs.
Maariv was purchased by Dankner's investment group less than 18 months ago for 300 million shekels ($77 million/58.8 million euros).
Employees at the paper say it has changed hands five times in the past 20 years.