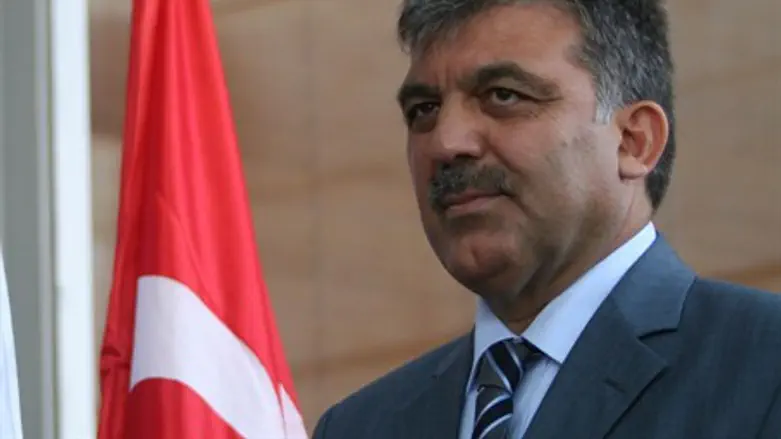 Turkish President Abdullah Gul
Israel news photo: Flash 90
Turkey's President Abdullah Gul's health is reportedly "improving" following hospitalization for an ear infection.
Gul, 61, tweeted from his hospital bed on Thursday to reassure Turks he is recovering from an ear infection that forced him to cancel a Victory Day reception. Several overseas trips were also sacrificed to the infection as well. Speaking to reporters in Ankara, Turkish Minister of Health Recep Akdag said Wednesday, "Thank G-d, President Gul is in a good health now."
Akdag added that doctors at the Hacettepe University Medical Center, where the 61-year-old president was hospitalized, expected the infection to dissipate shortly. Asked if surgery was required, the minister replied that he was not aware that any surgery was to be performed. Gul has been undergoing treatment for a recurring problem in both ears since last week. He cut short a visit in Kyrgyzstan due to the condition, and returned to Turkey last Thursday for treatment. Doctors have recommended the president remain grounded for the next two months.
Gul, who is a moderate, holds a position in Turkey that at present is largely ceremonial. However, the Turkish parliament is currently considering a change to its constitution that would transform its government to one led solely by a president, rather than by prime minister. 
If the parliament approves the constitutional changes, there may be a power struggle on the horizon between Gul and Prime Minister Recep Tayyip Erdogan, an Islamist who is perceived as more of a hardliner within the ruling AK Party.