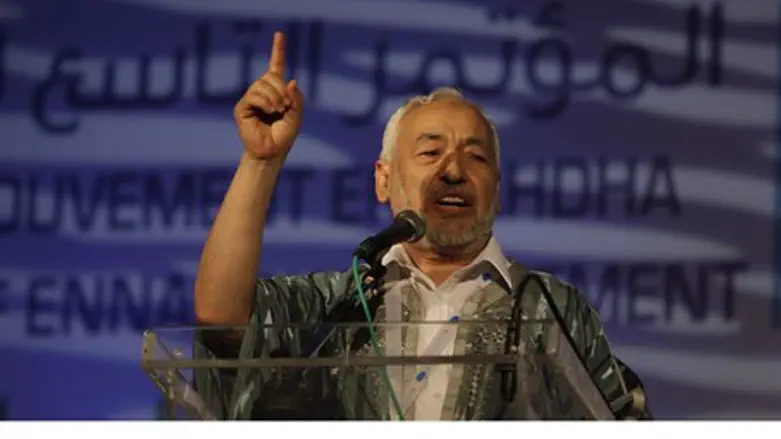 Ennahada leader Rached Ghannouchi
Reuters
Tunisia's leading political party, the Muslim Brotherhood's Ennahada party, has reiterated its opposition to normalizing diplomatic ties with Israel.
Ennahada held its ninth national conference in Tunis over the weekend, ending with a resolution on the matter Monday after party leader Rached Ghannouchi, perceived as a moderate, was re-elected to serve as its head for two more years.
Ennahada, which won the country's first democratic elections last October, first ruled out normalization months ago.
Ghannouchi said at the time that "Tunisians' problem is with Zionism, not with Judaism," and stressed there could be "no normalization with Israel." He called Tunisia's former President Zine el Abidine Ben Ali "a collaborator with the Zionists."
Ben Ali's government was the first to be toppled in what became known as the Jasmine Revolution, which started when a pushcart vendor self-immolated in January 2011 over his economic situation.
The protests that erupted as a result of that incident ignited an inferno of uprisings throughout the Middle East that became known as the "Arab Spring."
At least four secular Arab regimes have been torn down and replaced with Islamist governments since then, including those in Tunisia, Egypt, Yemen and Libya.
Syria is still engaged in the savage civil war touched off by the uprisings; analysts predict it is only a matter of time before President Bashar al-Assad will be deposed as well.