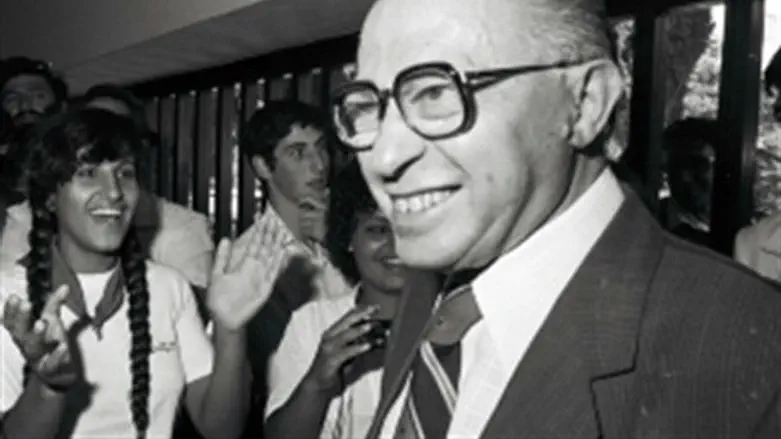 Menachem Begin
Israel news photo: Flash 90
Prime Minister Binyamin Netanyahu said that the principle guiding him in the Givat HaUlpana affair is the one set down by Menachem Begin 64 years ago when fighting nearly broke out between the Etzel militia and the IDF: Civil war must be avoided at all cost.
Netanyahu spoke Sunday at the memorial ceremony for the 16 Etzel members and three IDF soldiers killed in the Altalena debacle 64 on June 22, 1948.
The Altalena was a ship that carried weapons intended for the Etzel (Irgun Tzvai Leumi) and which arrived at Israel's shore a few weeks after Israel declared independence.
A showdown between the ship and the IDF ensued, as Begin and Prime Minister David Ben Gurion could not reach agreement on the precise way in which the weapons would be divided between the Etzel and the IDF. When the IDF began to shell the Altalena, Begin did not allow the men on the ship to use the weapons it carried to fight back.
"Menachem Begin set down a principle – there will be no civil war," Netanyahu said. "The principle he set down at the dawn of our independence has stood for 64 years. It is in force today; it is always in force."
"We have one state, one regime, one law in the state of Israel. The government and only the government determines the policy, and in the state of Israel, the law binds everyone, including the government, including the prime minister," he added.
"The government's policy is clear: We strengthen the settlement enterprise while respecting the law. We strengthen the settlement enterprise in the face of a torrent of pressure from within and without. We strengthen the settlement enterprise and we do so while respecting the law and there is no contradiction between the two. On the contrary, destabilizing the rule of law will hurt the settlement enterprise and weaken it. Respecting the rule of law strengthens it. Menachem Begin understood this during Altalena and afterward, and we understand it well today."