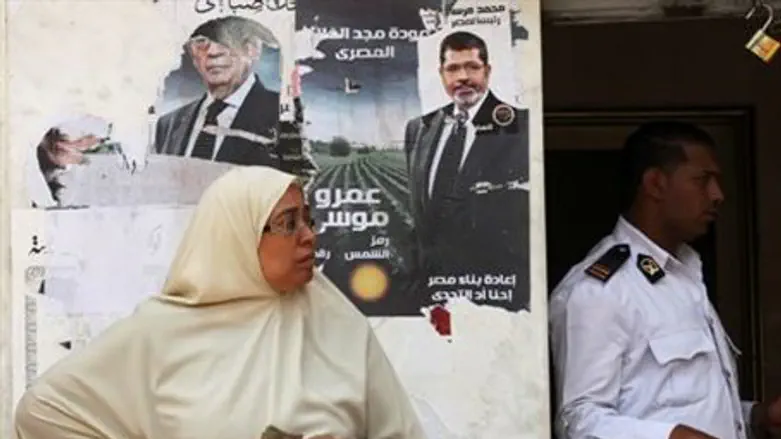 An Egyptian woman stands in front of posters
Reuters
The Muslim Brotherhood candidate for Egypt's new president is running in third place in the polls, which might allow Israel to breathe easier, but the projected winner maintains the 1979 peace treaty must be amended.
University of Maryland political scientist Shibley Telhami said a poll of Egyptians shows Muslim Brotherhood candidate Mohammed Mursi is running far behind but warned, "The situation on the ground is changing by the day. Morsi's numbers may be deceiving, and it is probable that he'll exceed his low showing in the poll."
Topping his poll with 32 percent of the vote is Abd Al-Men'em Abul Fotouh, who broke away from the Brotherhood, followed by former Arab League chief  Amr Moussa with 28 percent, and former Prime Minister Ahmed Shafiq with 14 percent.
Although most respondents reject the literal application of Muslim Sharia law, 55 percent back Sharia law as being the basis for Egypt's system.
Amr Moussa last month stated that the Camp David accords of 1978, which were the basis for historic peace treaty with Israel in 1979,  were "dead and buried." In a recent debate, he said Israel is "a country that advocates an aggressive stance," adding "but I do not want to choose these emotive expressions."  
Aboul Fotouh was more candid and stated, "Israel is an enemy."
As for Shariq, a former air force chief, he has boasted in the campaign that he downed Israeli planes during the War of Attrition in 1969 and 1970.
Israel is patiently waiting for the outcome of Wednesday's vote, which probably will require a second round. "I think it is quite obvious that the populist thing to do is to bash Israel as strongly as you can. The more you bash Israel, the more points you gain, regardless of whether you are Islamist or secular," Foreign Ministry spokesman Yigal Palmor told the London Telegraph.