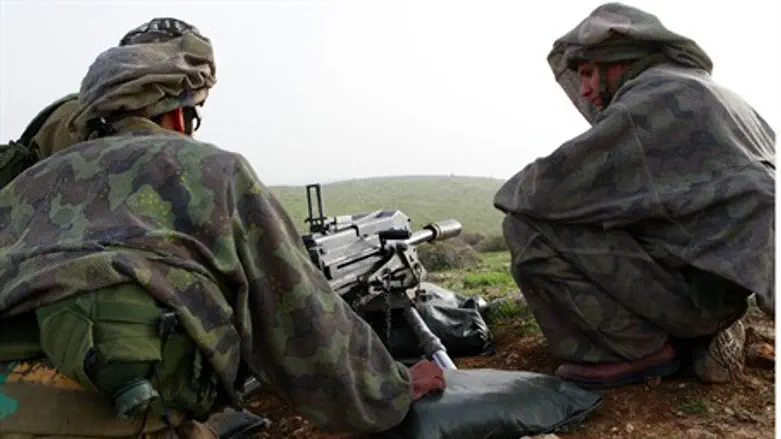 The paratroopers during the drill
Israel news photo: Yissachar Ruas
Soldiers in the advanced training unit of the IDF's Battalion 90 concluded their "War Week" exercises in a final drill, in which paratroopers and armored corps took part.
The soldiers said that the week was a long and exhausting one, both physically and mentally. After an exhausting walk while carrying a heavy load of equipment on their backs, the soldiers reached their destination, underwent a briefing and continued the exercise of taking over some empty hills. They then underwent a security briefing and received final instructions before the next maneuver, which was held using live ammunition.
The exercise was dedicated to Ziv Bargur, a platoon commander in Paratrooper Battalion 202 who died while on duty, and was named after him. Dedicating an exercise in memory of a commander who was killed while serving in the paratroopers brigade is an accepted practice. While the soldiers did not personally know the commander, they heard his life story and the circumstances in which he died.
After the briefing the exercise got underway: Tanks from Brigade 188 fired and covered the target on the left, while the holding force covered on the right. The forces advanced quickly and the troops, under the command of Avishai, advanced behind him quickly to the target as a smokescreen covered for them. After several minutes of assault using the tanks, the paratroopers took over the target successfully.
At the end of the exercise, the soldiers were informed that the exercise will be continued at a future date. The fact that this comes as a surprise helps them in their preparedness for more intense situations where no planning ahead of time can be done.
Photographs by Yissachar Ruas