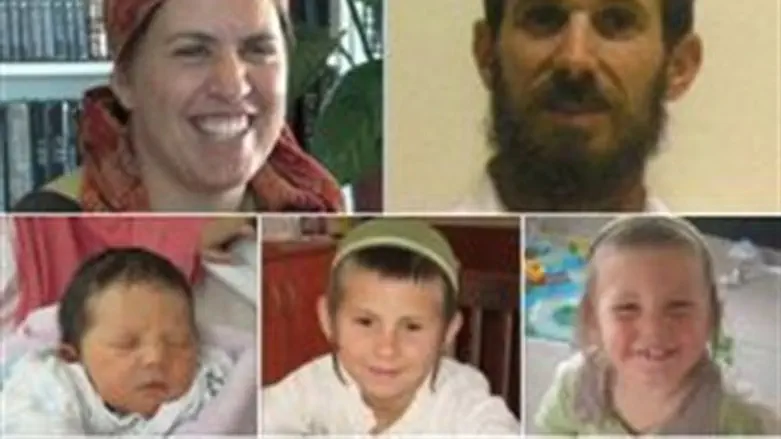 Fogel Family
A7 Staff
Rabbi Natan Chai of the community of Itamar in Samaria said on Monday that the two terrorists who brutally massacred five members of the Fogel family in their home last March on Sabbath eve should have received the death penalty.
Rabbi Chai made the comments several hours after one of the two murderers, Amjad Awad, was sentenced to five consecutive life sentences. His accomplice and cousin was also sentenced to five life sentences last year.
The prosecution recently said it does not plan on asking for a death sentence for Awad, who pleaded guilty to the horrific murders.
"The only sentence that the court should have imposed on the murderers of the Fogel family is a death sentence," the rabbi told Arutz Sheva. "People who murder children in cold blood, who can harm a baby and her parents, do not recognize the value of life. If there is anyone in the world who deserves a death sentence it is these murderers, who did not even express remorse for their actions."
"The government must order the IDF to work to deter terrorists," he added. "The government must take action against families of murderers and find a way to deter them so they do not implement their schemes."
Rabbi Chai called on the government to build and develop Itamar as a way of responding to the killers, who sought to sow death but instead will see the community flourishing.
"We are going to build a synagogue named after the Fogels, a new neighborhood and a new beit midrash," he said. "We'll bring a lot of life to illuminate the darkness of the murderers."