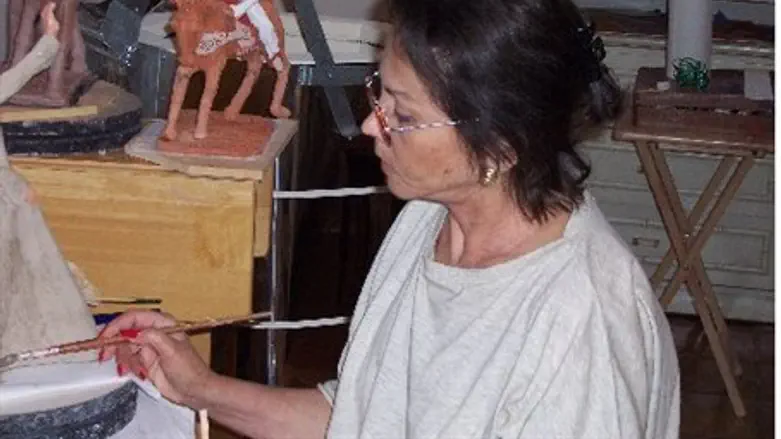 Piece by Ilana Elovic, artist
Israel news photo: courtesy of Elovic family
An Israeli-American artist's struggle for life and the skills with which she fought that battle in some ways may have mirrored those she might have learned from the family of Holocaust survivors into which she was born. 

At the end, Ilana Elovic tragically lost her fight -- though in the losing, a new program to help Israeli artists blossom and grow, has been born.

The new program involves a $20,000 art prize that was launched to honor the memory of the self-taught artist. The competition, hosted by the Bezalel Academy of Arts and Design, was funded and conceived by the artist's husband, Dr. Eugene Elovic as a means of preserving his wife's memory and honoring her talent.
The prize, to be awarded in April, will also include a catalog and solo exhibition at the Bezalel Gallery on Jaffa Road in Jerusalem in November 2012.
"I wanted to find a way to honor and preserve my wife, Ilana's memory and her exceptional artistic talents," said Elovic. "I couldn't think of a more fitting tribute than by helping other artists to develop and grow their talents.
Ilana Elovic was born to a family of Holocaust survivors, and developed her artistic talents early in life through various media. She served as a cartographer in the IDF intelligence corps and upon discharge accepted employment as a draftsman at a leading Israeli architectural firm.
Eventually, the artist returned to her childhood love, and again began experimenting, first with fabric art and then with glass, producing Tiffany-style pieces. Inspired by her visits to the Old City of Jerusalem and the work of Bedouin jewelry makers, she began to design necklaces and beads, using natural materials such as coral, carnelian, amber and turquoise. Later, she turned to sculpture, ceramics painting, photography.
In 2001, Elovic was diagnosed with ovarian cancer. Like many artists, she found inspiration in her battle for life and that of the women who fought alongside her in the clinic where she received treatment. As her strength slowly waned, she returned to ceramics, and then to painting -- and finally to drawing when she could no longer paint. Her last project was a design for a memorial to a cousin's son who had tragically lost his life.
In November 2006, Ilana Elovic passed away, just two years before the Massachusetts House of Representatives chose to honor her with an exhibition of her art at the State House.
The artist's family has maintained its strong ties to Israel and the Jewish community throughout the years of her life and beyond, with a number of her children and grandchildren making their homes in the Jewish State. The family supports various causes in Israel, including the Weizmann Institute of Science, the Kollel of Mevaseret Zion and others.
The competition is open to all active Israeli artists in Israel and the Diaspora. The deadline for applications is February 9, 2012.
"Working with Bezalel on this project has been very rewarding and we are happy to have the Academy as our partners in this venture," said Dr. Elovic. The panel of judges in the competition will include representatives from the Elovic family, Professor Arnon Zuckerman, president of Bezalel Academy, artist and faculty member Prof. Nahum Tevet, curator Yigal Zalmona, artist Michal Rovner and Rivka Saker, chairperson of Sotheby's Israel. 
"This is an extremely significant and generous prize for Israeli painters," noted Liv Sperber, the Academy's director of International Affairs and Development, "and it will acknowledge Israeli artists while celebrating the life of Ilana Elovic.