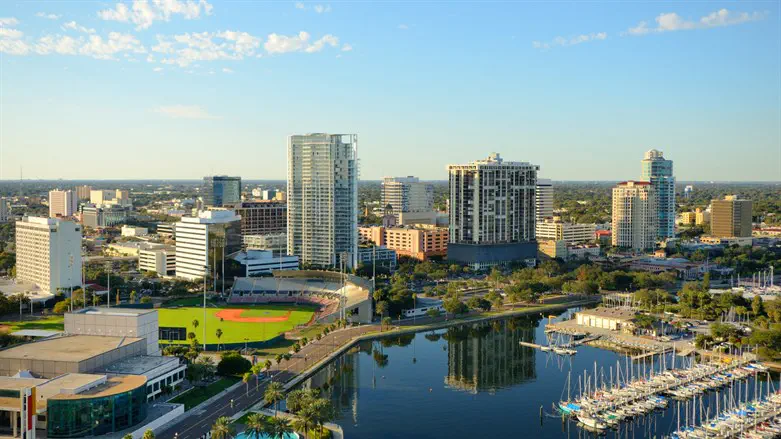 St. Petersburg, Florida
iStock
Days after a synagogue in St. Petersburg, Florida, was forced to evacuate services following a bomb threat, the local city council met to discuss a resolution about antisemitism.
The resolution was about whether to endorse a definition of antisemitism that its authors and local advocates both say can be a useful first step in fighting hatred of Jews.
Notably refusing to cast a vote: A controversial council member and member of the Nation of Islam who voiced multiple objections to the definition, questioned Jewish community leaders about who constitutes a Jew and left the chambers so that he would be marked absent during the vote.
"I do have concerns. And my concerns are rooted in my personal experience of being falsely accused of being an antisemite," Brother John Muhammad said at the council meeting, explaining his objections to the proposal. He continued, "It was stated that I was not qualified to do the job that I've been doing for the last 11 months because somebody who I'm affiliated with is called an antisemite."
Muhammad did not specify to whom he was referring, but local Jewish groups have opposed his seat on the city council since he was appointed last year. Their objections were rooted in his refusal to disavow the Nation of Islam's current leader, the Black nationalist Louis Farrakhan, who has a long history of making antisemitic statements.
Still, Jewish leaders had hope that they could work with Muhammad and educate him on the topic of antisemitism. "When I see a situation like this, it screams 'opportunity' to me," Michael Igel, chair of the Florida Holocaust Museum, located in St. Petersburg, told the Jewish Telegraphic Agency earlier this year. The local federation said it would push the council to make a statement about the dangers of antisemitism.
Thursday's resolution, one day before Rosh Hashanah, seems to have been the result of that effort. It called on the council to adapt the International Holocaust Remembrance Association's (IHRA) working definition of antisemitism, which dozens of countries, states and municipalities have done to date.
The council was set to vote on it days after the city's Congregation B'nai Israel was the target of a bomb threat. The synagogue's rabbi, Philip Weintraub, delivered the meeting's opening convocation and spoke about the threat, and other city council members praised law enforcement's response to it.
Igel and Stuart Berger, head of the local Jewish Community Relations Council, were among the local Jews who advocated for the resolution and rose during the public comment period to endorse it. The IHRA definition itself has been a subject of controversy for its classification of certain kinds of criticism of Israel as antisemitic, which another public commenter addressed, saying: "I think you can have a bold working definition of antisemitism while not coddling a Middle Eastern government that has policies of separation and absolute brutality on the Palestinian people."
Muhammad did not mention Israel in his objections to the antisemitism resolution. Instead, he suggested that its wording was too "loose" and that "its subjective nature determining what constitutes hatred towards Jews" could lead to "the suppression of legitimate free speech."
While saying "I don't support any acts of antisemitism," Muhammad listed all the ways he considered himself an ally of the local Jewish community. He participated in a reading of the names of victims of the Holocaust during Yom HaShoah; he voted on a resolution to remember the victims; and he is a member of a Black-Jewish study group. Yet during the more than 15 combined minutes when he held the floor, Muhammad found a host of reasons not to support the proposed resolution.
He cited the Black liberation activist Malcolm X, a onetime member of the Nation of Islam who espoused antisemitic views throughout his life, as an example of someone "who was considered a leading antisemite of his day." Muhammad also asserted that "a celebrity" had recently prompted "a debate within the Jewish community themselves" about whether they had said something antisemitic — a possible reference to Jamie Foxx.
During his comment Muhammad also brought Igel and Berger up to the podium and questioned them about some of the finer points of the resolution's wording. He asked them who is considered Jewish: "Is it a religion? Is it a culture? Is it a race?"
Muhammad asked if Hebrew Israelites and Messianic Jews would be considered Jews who could be affected by antisemitism, to which Igel responded, "These questions are sometimes in the eye of the beholder." Both groups are themselves often accused of antisemitism for misappropriating Jewish symbols and rituals; in addition, members of the former sometimes promote antisemitic conspiracy theories, while members of the latter often proselytize Jews.
He also prompted back-and-forth by questioning one passage of the resolution, which states that "the Jewish community has enriched our leadership through their contributions to the arts, business, academia and government." What's the difference, Muhammad wanted to know, between that passage and conspiracy theories about Jews controlling the media and government that the IHRA defines as antisemitic?
Muhammad concluded his objections by noting that the definition "could also have a chilling effect on our community members who might fear repercussions of expressing opinions that are not intended to be hateful but may be misconstrued as such. We have to protect the rights of those who may have unpopular or controversial views within the bounds of civility as long as they are not explicitly advocating for discrimination, persecution, hurt, harm or danger to members of the Jewish community."
Soon after, another council member cut him off by "calling the question" to end debate on the subject. Muhammad thanked the room and immediately left before the vote could be called.
"During the proceedings I had several questions that were not able to be sufficiently answered by those who were present," Muhammad told JTA in an emailed statement on Friday. "Unfortunately, my comments went over the time allowed and the question was called before I could conclude. Without having the answers to my questions, or sufficient responses to my inquiries, I chose to leave the proceedings and abstain."
He continued, "While I recognize the intent behind the proposed resolution and the urgent need to combat antisemitism, especially in the face of increasing incidents involving white supremacists, I would like to ensure we do so without compromising our commitment to free expression and the peaceful exchange of diverse ideas within our community."
The present members of the city council passed the resolution unanimously, with some citing both St. Petersburg's historical record of antisemitic discrimination and the recent rise of antisemitic and white nationalist activity in Florida.
While no council members responded to Muhammad directly, one, Brandi Gabbard, gave a speech after he left that alluded to "inciting hate against any person in our community or any community."
"We see people in positions of power specifically inciting this hate both publicly and behind the scenes," Gabbard said. "It is dangerous. It is irresponsible. And quite frankly, it disgusts me." Her remarks were met with applause.
Igel, the grandson of Holocaust survivors, told JTA that watching Muhammad's objections to the resolution was "painful" and "emotional." But he added that the experience "reminds us of the need for Holocaust education and for the IHRA definition and why it's important, so we all can know and see antisemitism whenever it is."