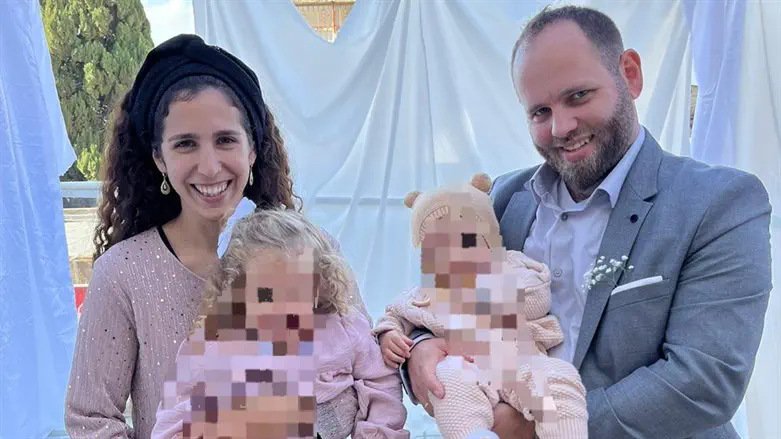 Meir Tamari with his wife and children
Courtesy of the family
Terror victim Meir Tamari Hy"d, who was murdered Tuesday in a shooting attack near the community of Hermesh in Samaria, will be laid to rest on Wednesday afternoon at 1:00p.m.
Tamari, 32, was shot at close range when two Arab terrorists passed his vehicle on the road near Hermesh. He will be laid to rest in the Shaked cemetery in Samaria.
Roni Mizrahi, chairman of Hermesh, eulogized Tamari, telling 103 FM Radio, "They were a young couple in the town, they have lived here for a number of years. He was an amazing guy, a contractor who helped anyone who needed him, with his whole heart. It's such a shame. We have lost a very dear man."
"This is a life-altering event," Iris Boker, a neighbor of Tamari's, told Reshet Bet. "We are here with Tal, embracing her, the family, the towns around us. This is our home. We will continue together and support each other and the family. There is tension. It's a very difficult feeling to see this military post empty."
Iris Shok, a friend and neighbor of Tamari, told Galei Zahal, "It is a huge shock, a great blow to everyone and to his young children. Yesterday his little daughter learned to recite the difficult news. He was a very good person, humble and stable, it's hard to talk about him in past tense."
Tamari came to Hermesh approximately five years ago, with his wife Tal, who grew up in the town. The couple has two children, ages one and three, and recently finished building their home in Hermesh.
Footage from security cameras shows the terrorists' vehicle passing Tamari's vehicle, moving in close to it, just before the terrorists opened fire at Tamari and drove off to escape the scene.
Initial investigations show that the terrorists fired seven bullets at Tamari from an M-16 before escaping the scene in their vehicle. It is estimated that they drove northwards, towards Jenin.
Tamari's wife is the step-daughter of Binyamin Horgan, who lost his first wife Esther in a December 2020 terror attack. Binyamin Horgan later remarried, to Tal Tamari's mother.