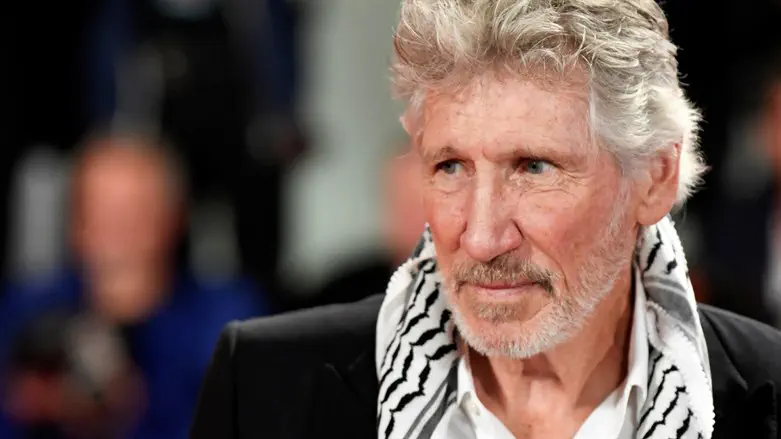 Roger Waters
Reuters
Pink Floyd co-founder Roger Waters on Saturday defended his donning a Nazi-style uniform on stage at a concert in Berlin earlier this month, claiming he was merely opposing fascism and bigotry, Reuters reported.
Police in Berlin have opened a criminal investigation into suspected incitement by Waters following the May 17 concert at the Mercedes-Benz Arena.
Waters also compared Anne Frank to Shireen Abu Aqleh, an Al Jazeera journalist who was shot dead while covering clashes between IDF soldiers and Palestinian Arab terrorists in Jenin last year.
The 79-year-old said on Saturday aspects of his performance at Berlin's Mercedes-Benz Arena that have been questioned were "quite clearly" a statement against fascism, injustice and bigotry.
"Attempts to portray those elements as something else are disingenuous and politically motivated," he tweeted.
Images from the concert showed Waters in a long black trench coat with bright red arm bands, aiming an imitation machine gun into the audience.
The outfit included a swastika-like emblem made of two crossed hammers - iconography that also appeared on costumes in a film based on Pink Floyd's hit 1979 album "The Wall", a critique of fascism.
Waters claimed the depiction of "an unhinged fascist demagogue" had been a feature of his shows since "The Wall".
In February, Frankfurt's city council stopped a Roger Waters concert from going ahead, citing Waters' status as "one of the world's most well-known antisemites" as the reason for the cancellation.
Last month, an administrative court ruled that neither the city of Frankfurt nor the state of Hesse had the right to cancel the Waters concert, which is scheduled to take place at the Frankfurt Festhalle on May 29.
Waters is notorious for his anti-Israel statements and actions. He has in the past compared Israel to Nazi Germany and released a giant balloon pig bearing the Star of David during a concert in Belgium. Concert-goers said the Jewish star was among several symbols representing various corporations and fascist movements.
He has also called Zionism an "ugly stain" that must be removed. In defense of his actions, Waters argues that BDS "isn't about music – it's about human rights."