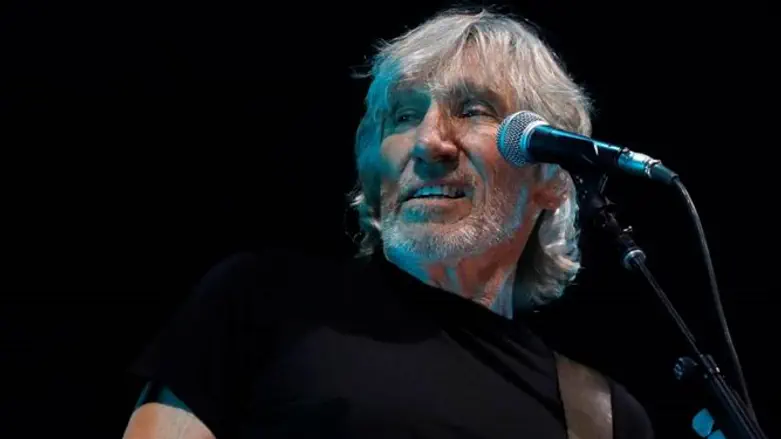 Roger Waters
Reuters
Former Pink Floyd member and notorious anti-Israel activist Roger Waters says the boycott of Israel "isn't about music – it's about human rights."
Waters' comments, quoted by the JTA news agency on Tuesday, came after Australian rock star Nick Cave spoke out against the Boycott, Divestment and Sanctions movement (BDS).
Cave played in Tel Aviv this week, despite calls for him to boycott Israel, and said that the BDS movement was the impetus for him coming to Israel.
Prior to his concerts, reported JTA, Cave took a dig at Waters at a press conference, saying, "If you play Israel, you have to go through a sort of public humiliation from Roger Waters and Co., and no one wants to be publicly shamed. It's the thing we fear the most, in a way, to be publicly humiliated."
In a statement following Cave's Israel concerts, Waters wrote, "Nick thinks this is about censorship of his music? What? Nick, with all due respect, your music is irrelevant to this issue. So is mine, so is Brian Eno's, so is Beethoven's. This isn't about music – it's about human rights."
"We hurl our glasses into the fire of your arrogant unconcern, and smash our bracelets on the rock of your implacable indifference," Waters also wrote, adding that "if at some point in the future you want to climb out of the dark, all you have to do is open your eyes, we, in BDS will be here to welcome you into the light."
Waters has verbally attacked many artists who chose to perform in Israel over the last several years.
His list of targets includes Jon Bon Jovi, Alan Parsons, the Rolling Stones, Neil Young, Radiohead and actress Scarlett Johansson.
In addition, the former Pink Floyd frontman has in the past compared Israel to Nazi Germany, saying in an interview, "The situation in Israel/Palestine, with the occupation, the ethnic cleansing and the systematic racist apartheid Israeli regime is unacceptable."
He previously released a giant balloon pig bearing the Star of David during a concert in Belgium. Concert-goers said the Jewish star was among several symbols representing various corporations and fascist movements.
British musician Brian Eno, who also is a BDS supporter and who last year ordered an Israeli dance company to stop using his music, commented on the issue as well.
"I admire Nick Cave as an artist and I know he has been generous in his support for Palestinian humanitarian causes. I think he has every right to come to his own conclusions about whether or not he supports BDS. However, I think I also have the right to present him with another side to this argument," Eno wrote.
"The BDS argument is simple enough: Israel has consistently – and lavishly – used cultural exchange as a form of 'hasbara' (propaganda) to improve the image of the country abroad, and to 'show Israel's prettier face' in the words of a foreign ministry official. The BDS campaign is simply asking artists not to be part of that propaganda campaign," he also said, adding, "This has nothing to do with 'silencing' artists – a charge I find rather grating when used in a context where a few million people are permanently and grotesquely silenced. Israel spends hundreds of millions of dollars on hasbara, and its side of the argument gets broadcast loud and clear. Coupled with the scare-tactic of labelling any form of criticism of Israeli policy as 'anti-Semitic', this makes for a very uneven picture of what is going on."