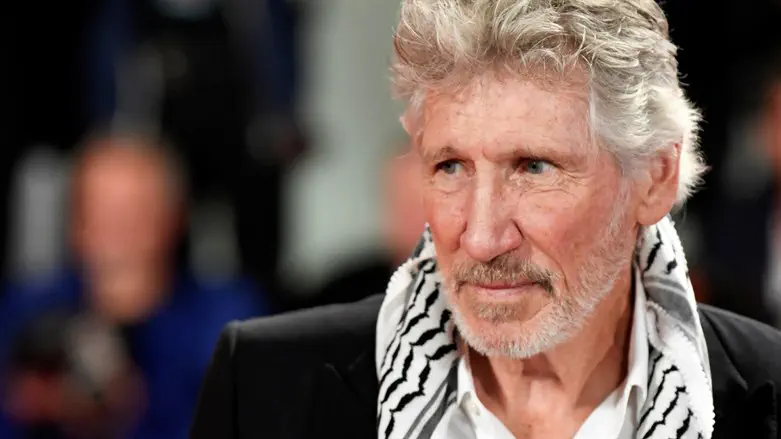 Roger Waters
Reuters
Police in Berlin have opened a criminal investigation into suspected incitement by Pink Floyd co-founder Roger Waters following a concert in Berlin in which he dressed in a uniform resembling a Nazi officer, Jewish News reported on Thursday.
The investigation was launched after Waters wore a long leather jacket and gloves with a Nazi-like red armband, depicting crossed hammers instead of swastikas, during his concert at the Mercedes-Benz Arena on May 17.
Waters also compared Anne Frank to Shireen Abu Aqleh, an Al Jazeera journalist who was shot dead while covering clashes between IDF soldiers and Palestinian Arab terrorist in Jenin last year.
Police chief inspector Martin Halweg said, according to Jewish News, "The State Security Department at the Berlin State Criminal Police Office has initiated a criminal investigation procedure regarding the suspicion of incitement of the people (140 Paragraph 4 of the German criminal Code)."
"The context of the clothing worn is deemed capable of approving, glorifying or justifying the violent and arbitrary rule of the Nazi regime in a manner that violates the dignity of the victims and thereby disrupts public peace. After the conclusion of the investigation, the case will be forwarded to the Berlin Public Prosecutor's Office for legal assessment," the police chief added.
Waters is due to play another concert in Frankfurt this weekend, causing the Jewish community in the city to arrange a demonstration outside the event.
In February, Frankfurt's city council stopped a Roger Waters concert from going ahead, citing Waters' status as "one of the world's most well-known antisemites" as the reason for the cancellation.
Last month, an administrative court ruled that neither the city of Frankfurt nor the state of Hesse had the right to cancel the Waters concert which is scheduled to take place at the Frankfurt Festhalle on May 29.
Waters is notorious for his anti-Israel statements and actions. He has in the past compared Israel to Nazi Germany and released a giant balloon pig bearing the Star of David during a concert in Belgium. Concert-goers said the Jewish star was among several symbols representing various corporations and fascist movements.
He has also called Zionism an "ugly stain" that must be removed. In defense of his actions, Waters argues that BDS "isn't about music – it's about human rights."
(Israel National News' North American desk is keeping you updated until the start of Shavuot in New York. The time posted automatically on all Israel National News articles, however, is Israeli time.)