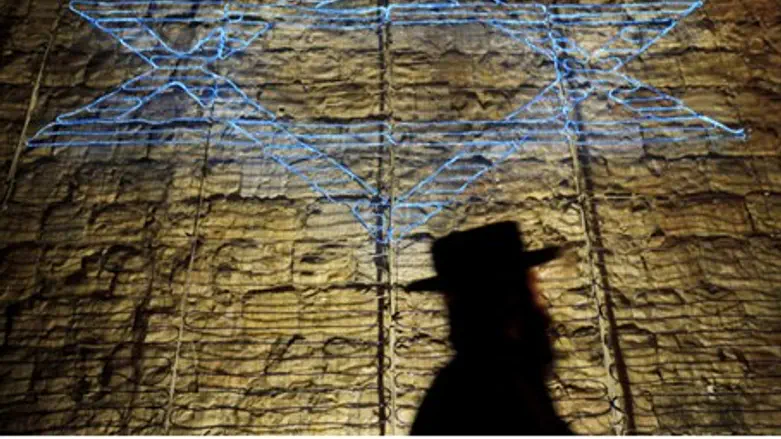 Jewish man walks by Star of David
Israel news photo: Flash 90 (illustrative)
Anti-Israel musician Roger Waters is being criticized yet again for insulting the Jewish community, this time with a giant balloon pig bearing the Star of David.
The pig-shaped balloon was released during a concert last week in Belgium. Concert-goers said the Jewish star was among several symbols representing various corporations and fascist movements.
Rogers has previously faced criticism for virulently anti-Israel statements and for using anti-Israel and anti-Jewish imagery in his shows, such as in a 2010 performance during which images were shown of planes dropping bombs shaped like the Star of David, followed by dollar signs.
The Simon Weisenthal Center blasted Rogers over his latest insulting use of Jewish symbols. "By floating a pig balloon stamped with the Star of David at his concert, Roger Waters has moved to the front of the line of anti-Semites," the group said in a statement.
"Forget Israel-Palestine. Waters deployed a classic disgusting medieval anti-Semitic caricature widely used by both Nazi and Soviet propaganda to incite hatred against Jews," charged the center's Associate Dean, Rabbi Abraham Cooper.
However, the Anti-Defamation League, which has previously criticized Rogers' use of Jewish symbols, said that in this case the symbol was not used in an anti-Semitic context.
An ADL spokesman said the pig balloon had been floated as part of a performance of the song "Run Like Hell," in which an anti-hero becomes a fascist dictator. In the film version of the song, a frenzied mob destroys Black and Jewish-owned homes, so the use of Jewish symbols on the pig fits the song lyrics, he argued.