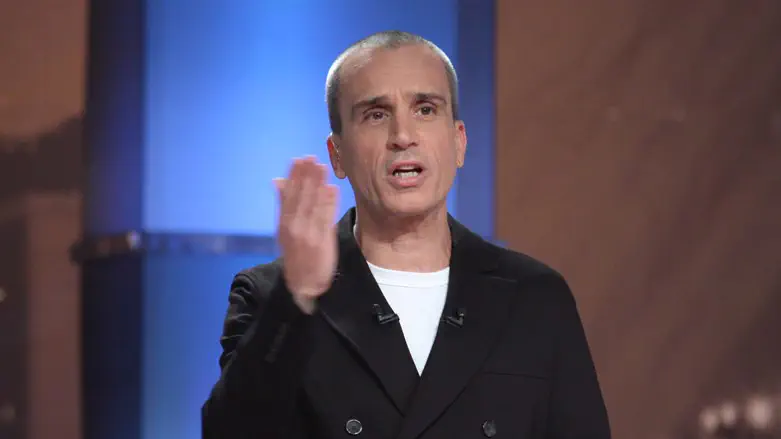 Avri Gilad
Oren Nachshon/ Flash 90
Media personality and publicist Avri Gilad has questioned why the protests in the streets and at intersections have continued, even though the judicial reform likely will not pass, and called on the protesters to cease disrupting civilians' lives.
In an Israel Hayom editorial, Gilad noted that he saw photos of the protest last week, noted that, "In Tel Aviv the number of Palestinian flags has greatly multiplied, in Haifa a Jewish protester held a sign showing pictures of the children killed in Gaza - and her hands were dipped in red."
"The extreme left, which has not succeeded in buying itself a place in the hearts of the people, has taken over the protests against the judicial reform, which were greatly weakened since apparently there won't be a reform at all," he said.
According to Gilad, there is a tendency in Israel to fall in love with protests, on both sides: "From the moment a line was put out for protests, they have not let up - it's every week, sometimes every day, until the subject of the protest is defeated and so is the entire public, who needs to suffer the side effects of the protest - road blocks, noise, a waste of the police forces' time, and so on."
"I say: Enough. Were your goals achieved? This is not the time to find additional goals so that you can tend the fire of rebellion. Let us breathe. Protests are an important democratic tool, but there is a limit to it as well. When there is a protest every week, with a changing agenda, no goal is achieved, no political power is built, the government becomes used to it and becomes indifferent, and the only ones who suffer are those on the road."
"It's unthinkable, that now, whenever one government or another forms, our lives will be disrupted on a regular basis. This is not democracy, this is harass-acracy. Go gather together, vote, create a functional political front. Disruption of others' functioning will never pay off in the long run, it will just make lives miserable."