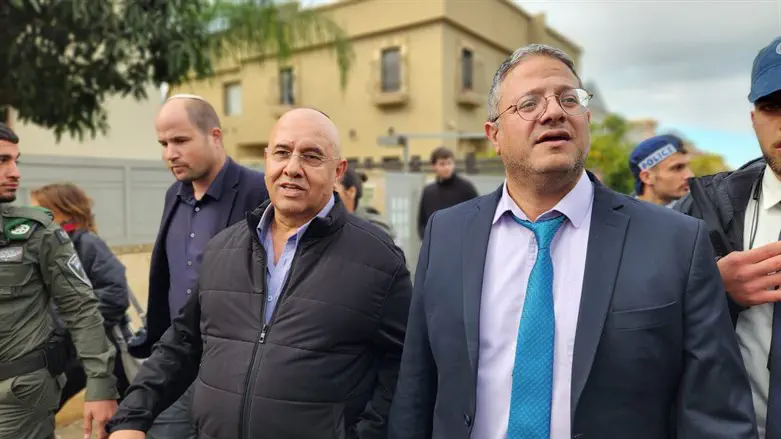 Itamar Ben-Gvir in Gedera
Self
The Israeli city of Gedera, located in the Shfela region of Israel, south of Rehovot, was rocked on Friday by a combination of home invasion and rape against one of its residents.
According to reports, a man entered a home in the city by force, tied up a woman and child inside, and stole various belongings. He later returned and raped the woman in front of her child.
The case has brought a wave of outrage, including from Prime Minister Benjamin Netanyahu, who commented, "My wife Sara and I are shocked by the horrifying rape incident that took place tonight in Gedera. I was informed that the commander of the central district of the police has conducted a special situation assessment and accordingly assigned the work of investigation to the central unit in the district. I expect the culprit to be brought to justice."

The mayor of Gedera criticized police conduct in the case, alleging they had neglected the matter.
The police responded, "Regarding the absurd and irresponsible comments of the mayor of Gedera, against the background of suspicion of a serious rape incident in the city, we express our disgust at the attempt of an elected official to gain headlines and political capital on the back of a crime victim. It is very strange that only yesterday the mayor praised the police officers and volunteers of the precinct at a special evening he held in their honor, while this morning he sent an unfortunate statement condemning them, in a manner unbecoming of a person in his position."

National Security Minister Itamar Ben-Gvir visited the scene on Friday afternoon, commenting, "This happened on my watch, and I promise to restore security to the residents, whatever it takes."
Police Commissioner Chief Superintendent Yaakov Shabtai spoke with Central District Commander Chief Superintendent Avi Biton and ordered him to direct significant investigative manpower and all the technological means available to the Israel Police to bring about the arrest of the rape suspect as soon as possible.
Since last night, the Commissioner of Police has been receiving regular updates on the work of the police investigators in the investigation.
"The Israel Police will turn over every stone and spare no means and manpower to bring the suspect into custody and complete the investigation as quickly as possible. I am up-to-date on the details and the work of the investigators, who have already proven their professionalism in complex investigations many times in the past, and I guarantee that the Israel Police will bring the suspect to justice," said the Commissioner.
(Israel National News' North American desk is keeping you updated until the start of Shabbat in New York. The time posted automatically on all Israel National News articles, however, is Israeli time.)