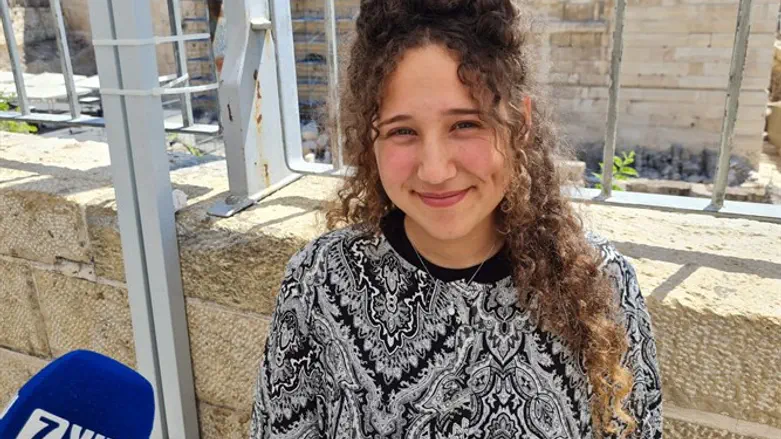 Nehama Dina Ernstoff
Arutz Sheva
Nehama Dina Ernstoff was part of a group of Jews who ascended the Temple Mount Sunday morning on the fast of Tisha B'Av and was attacked by Arabs throwing stones from the Al Aqsa Mosque.
Ernstoff tells Arutz Sheva: ''60 Jews ascended the Temple Mount in a group led by Rabbi Yisrael Ariel. We advanced towards the east and from the Al Aqsa Mosque stones were thrown at us, the police prevented them from hitting us. We continued towards the east, we wanted to stop and pray and study, the Waqf arrived and screamed we had to keep moving forward."
"Instead of letting the Jews mourn in front of the Holy of Holies, the police took us out and submitted to the demands of the Waqf," she says,
"If I have not felt the destruction until now - today I am sure of what I am mourning, for the fact that the State of Israel is sovereign on the Temple Mount but in practice succumbs to the demands of the Waqf and the fickle moods of the Israel Police."
Thousands of Jews arrive this morning (Sunday) for prayer and lamentations in the Western Wall plaza on the occasion of the Tisha B'Av fast, the day of the destruction of the Holy Temples.
More than a thousand Jews have already ascended the Temple Mount since 7 AM, when the mount became open to Jews.
Prime Minister Naftali Bennett is conducting a situational assessment with the participation of the Minister of Internal Security and the Commissioner of Police over the incidents on the Temple Mount.
Early in the morning, Arabs rioted on the Temple Mount and threw stones at police. The police dispersed the rioters.