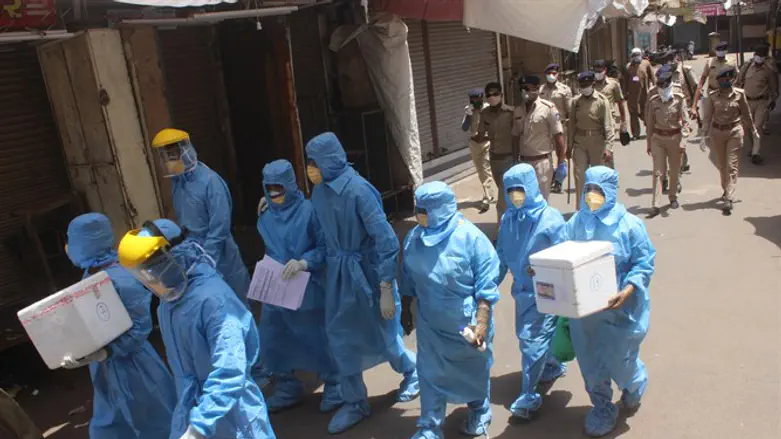 Dealing with Covid-19 in India
iStock
The Health Ministry has issued an announcement informing of the presence of a verified coronavirus patient who attended a performance in the Qimron hall in Beit She'an, last Thursday between half-past-seven and nine o'clock in the evening.
The source of the infection is now known to be a woman who recently traveled to Dubai, where she picked up the infection and later transferred it to her family in Israel.
The Health Ministry, in an exceptional move, has ordered all those who were present at the performance to enter into home quarantine and also to take a coronavirus test at the first opportunity – regardless of whether they have been vaccinated against coronavirus or not.
Those required to quarantine must remain at home for at least 14 days; or, for at least 10 days if the person has twice tested negative for Covid-19, once upon entering quarantine and again on the ninth day.
Parallel to this development is the news of a breakout of what is feared to be the Indian variant of Covid-19 in a school in Binyamina. The school has been closed and the students and teaching staff are undergoing testing.
The so-called Indian mutation is known to be partially resistant to coronavirus vaccines currently in use. According to a report from Reuters, antibodies in blood from people who received both doses of the Pfizer vaccine were found to be between three and six times less potent against the Indian mutation than against other common variants, including the "South African" mutation, according to a report posted on the website bioRxiv.