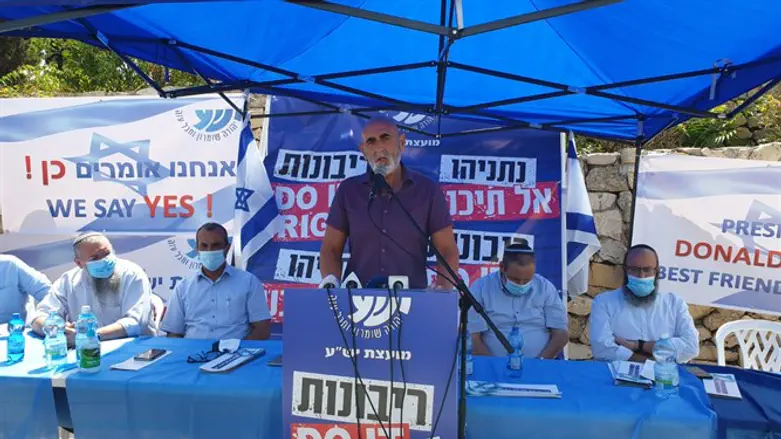 Yesha Council vigil
Hezki Baruch
Gush Etzion Regional Council Head Shlomo Ne'eman this morning, spoke at the Yesha Council's "Do Sovereignty Right," vigil outside the Prime Minister's office saying,
"The movement to settle in Judea and Samaria is the true lifeline of Zionism. It is the lifeline of the State of Israel. There isn't and will never be a 'peace plan' which will succeed if it hurts the communities of Judea and Samaria – one that calls for an Arab state between the Jordan River and the sea.
"We are standing here in order to lead and strengthen any move which will result in sovereignty in our native land – Judea and Samaria. But we are saying in a clear voice - forget about damaging our communities! This will only result in a plan which will lead to a Palestinian State.
"Mr. Prime Minister Benjamin Netanyahu, we voted for you, and supported you three times in the election campaigns, and we would support you a fourth time if necessary so that you would become Prime Minister and in order to apply sovereignty over our communities. Do not damage our communities – their development and ability to access them. We will not allow this to happen.
"We will utilize all of our strength for the application of sovereignty – but it must be done in the right way."