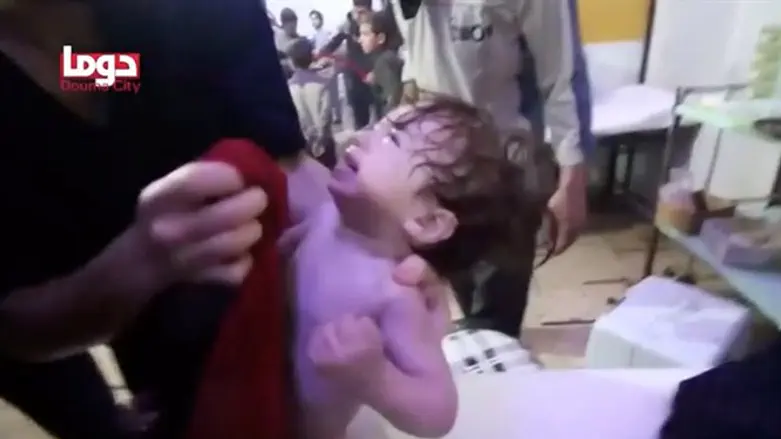 Chemical attack in Syria (archive)
Reuters
At least 41 civilians were injured in a suspected poison gas attack by Syrian rebel groups on the government-held Aleppo city in the country's north, The Associated Press reported Saturday, citing Syrian state media.
Syrian state TV previously said that 21 people had been injured, but people continued to arrive at a hospital in Aleppo where state TV was airing live, according to the report.
Doctors told state TV that most of those admitted to hospitals suffered from breathing problems and blurred vision. One doctor said two were in critical condition, including a child. State TV showed footage of medical professionals treating men and women on hospital beds.
Rami Abdel Rahman, the head of Britain-based Syrian Observatory for Human Rights, said there was a stench of gas in Aleppo city after projectiles were fired.
Aleppo police chief Essam al-Shali was quoted as having told state TV the projectiles landed in the al-Khalidiya neighborhood of Aleppo and that wind conditions caused gas to spread. There are no deaths, he added.
Aleppo Governor Hussein Diab, who visited the injured at the hospital, accused rebels of using poisonous gas in the missiles they lobbed at the neighborhood.
Aleppo has come under rebel attack in recent weeks, with missiles falling inside the city. The government has responded with counter attacks on rebel-held areas in the Aleppo countryside.
Both the Syrian regime and the rebels fighting it have accused each other throughout the Syrian civil war of using poison gas.
A joint team from the United Nations and the Organization for the Prohibition of Chemical Weapons (OPCW) accused Syria's government of using chlorine gas in at least two attacks in 2014 and 2015, and the nerve agent sarin in an attack in April 2017 in the town of Khan Sheikhoun that killed about 100 people.
The UN-OPCW team also determined that the Islamic State (ISIS) jihadist group used mustard gas in Syria twice, in 2015 and 2016.
Syria agreed to destroy its chemical weapons in 2013 under a deal brokered by Moscow and Washington, but the OPCW has since found chlorine has been "systematically and repeatedly" used as a weapon.
Such chemical attacks in 2017 and earlier this year led the US to launch punitive strikes against Syrian forces.
Syria denies that it has ever used chemical weapons against civilians and has received backing on this issue from Russia, its close ally.