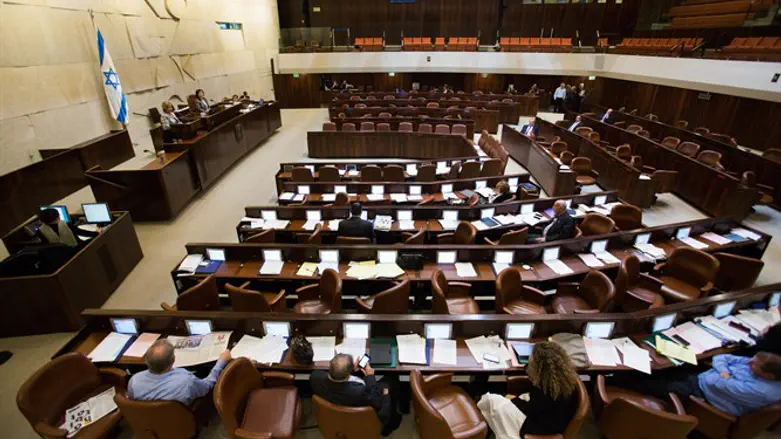 The Knesset
Yonatan Sindel/Flash 90
The Knesset Internal Affairs Committee, headed by MK Yoav Kisch, met on Monday afternoon to discuss violence against Arab residents of Jerusalem who are involved in land transactions with Jews.
The hearing was held following the kidnapping of an Arab resident of Jerusalem with US citizenship by the Palestinian Authority for allegedly selling property to a Jew.
In the hearing it emerged that the abductee was still being held by the Palestinian Authority in Ramallah. The MKs demanded to know what the government was doing to free the man.
Advisor to the Defense Minister Kobi Eliraz told the MKs that efforts were being made to bring him back, and that the Coordinator of Government Activities in the Territories approached his counterparts in the Palestinian Authority on this issue.
The police representative said that the matter was being investigated and that a number of suspects had been arrested.
חזן: אם היה מדובר ביהודי מת"א כל המדינה הייתה על הרגלים
MKs Bezalel Smotrich and Oren Hazan, who participated in the discussion, were furious at the failure to return the captive whose only crime was doing business with Jews. "If it were a Jew from Tel Aviv, the whole country would be on its feet."
MK Moti Yogev also slammed the government's response. "The abducted man is still captvve. A resident of Israel is being held against his will in the Palestinian Authority and no one cares. Where's the Commander of 290? Where is the commander of the Jerusalem district? Where is the State of Israel and the State Prosecutor's Office that does not deal with incitement in East Jerusalem? Who controls East Jerusalem, the State of Israel or the Palestinian Authority? I asked another Interior Committee to receive answers for the captive release within two days."
עו"ד קדם מספר לועדת הפנים על העינויים של הרשות הפלסטינית
At the end of the discussion, Committee Chairman MK Kish said: "I differentiate between the current case of the abduction and the detention of Issam Aqel in the PA offices, which must be dealt with urgently, and the fundamental problem. The committee will shortly convene a limited and closed follow-up discussion with the Shin Bet, the NSC and the Ministry of Defense. It is not possible that because of the sensitivity of the subject, it will become an omission. The arrest of the man by the PA is unacceptable, and anyone involved will pay a price."
"The police must stop the hunting of the land sellers and the active activities of the PA within Jerusalem. It has to be uprooted. We treat the symptom - the kidnapping and arrest of the man, because of the urgency, but we have to deal with the phenomenon. There will be no hunters in Israel. VIP's should be denied. Their activities harm our sovereignty. The committee will work to amend the Implementation Law. I ask the Shin Bet and the Ministries of Justice and Homeland Security to propose to the committee a proposal to amend the law, with the aim of acting against the activities of the PA within Jerusalem. "