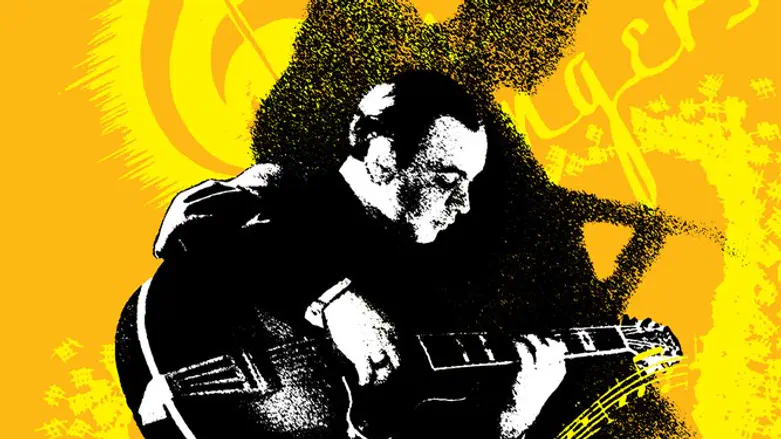 Ghetto Swinger cover
INN:RS
The January 28h passing of Coco Schumann, legendary jazz player who apeared with Marlene Dietrich and Ella Fitzgerald, pioneered in playing the electric guitar and whose best-selling book "The Ghetto Swingers" was reviewed on Arutz Sheva (soon in paperback) - was written up by AP, The Washington Post, BBC and the Smithsonian.
Ironically, it was also featured by the German news agency DPA, which described Mr. Schumann as "one of Germany's most celebrated jazz musicians."
Coco (born Heinz Jacob) survived the Holocaust by playing music at the concentration camps to which he was sent, most tragically at the entrance to Auschwitz, where, despite getting extra rations from SS officers who loved his rendition of "La Paloma," he almost perished.
One of the most horrifying scenes in his book is a description of another player who saw his wife and children being led to the gas chambers and could do nothing about it.
And one of the most poignant parts of Coco's courageous and talented life – he looked Aryan and continued playing the night scene without his yellow star after Hitler's henchmen hounded Jews throughout Berlin, until he was caught – is the fact that after the war, he kept a packed suitcase in his closet for years. This way he was ready to flee at a moment's notice.
Without intending to, perhaps, he also managed to convey the impossible contradiction of Diaspora Jewry in his own life. He tried to get away from Germany after losing almost his entire family in the war and moved as far away as he could – Australia (I have a friend whose survivor father moved to New Zealand, saying that this was as far as he could get while remaining earthbound) – but missed his native land, mother tongue, and the jazz scene with which he was familiar. He moved back to Berlin, continued his career, and died there. Israel and Zionism did not play a part in his life, although he was proud of the Jewish State.
And as for DPA's description of Coco, that is not a first. There is a statue of Maimonides in Cordova, celebrating the genius whose birthplace was that Spanish city and whom the city considers its own, even celebrating his 800-year anniversary . There, too, Spain has forgotten to mention that as a young child, Maimonides was forced to flee anti-Semitic persecution and eventually settled in Egypt after wandering in southern Spain, Fez (Morocco) and the Holy Land, where he became the ageless philosopher and rabbi whose works are studied by Jews and scholars the world over.
Of course, had Coco perished, he would just be another of the 6 million, many of whom might have been Europe's "most celebrated" in their fields, had they lived. Perhaps the DPA would have noticed their passing, in that case.
Coco wanted to be known as "a musician who survived the concentration camp. Not a Holocaust survivor who happens to make music." In that and much more, he succeeded. May he rest in peace.