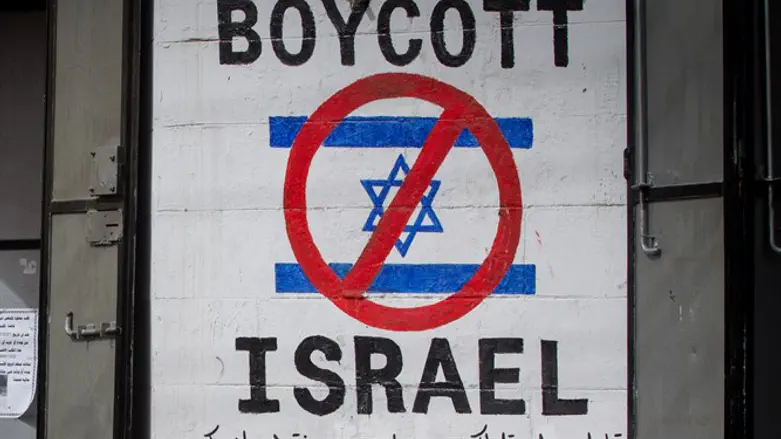 BDS graffiti sign
Miriam Alster/Flash 90
Israel is stepping up its fight against organizations that boycott Israel and has put together a list of activists and organizations which boycott Israel, with the goal of preventing their entry into the country, Hahadashot (formerly Channel 2 News) reported on Saturday.
According to the report, the list includes close to 20 organizations that, following intensive monitoring, were found to be acting consistently to encourage boycotts and attacks on the State of Israel.
The list reportedly includes organizations from all around the world including Europe, South America, South Africa and the United States, and even one American Jewish organization.
Interior Minister Aryeh Deri is expected to receive the list soon and he is to decide whether to prohibit entry into Israel of the organizations and individuals listed.
At the same time, the report said, some officials in the Foreign Ministry are opposed to the move. Sources in the ministry say that preventing the entry of these organizations is liable to only resonate and give them unnecessary publicity.
Israel's government just last week approved a plan which will set aside $72 million to fighting the campaign to boycott it.
The plan, which would entail the largest monetary investment yet by Israel specifically toward combating the Boycott, Divestment and Sanctions (BDS) campaign, calls for setting up a not-for-profit organization whose board will be made up of government officials and donors from abroad, the report said.
The board will oversee the first major "civil-society infrastructure servicing the State of Israel and the pro-Israel community in the fight against the de-legitimization of Israel".
Last month, New Jersey Governor Chris Christie announced that the state has divested all of its investments from the Danish bank Danske Bank due to its boycott of Israeli companies.
Danske Bank, along with Sweden's Nordea Bank, both announced in 2014 that they would boycott Israeli banks, specifically Bank Hapoalim, because they operate in "occupied territories".
Days before Christie's announcement, the Danish Foreign Ministry announced the cessation of financial aid, along with a more stringent vetting process, for the transfer of funds to Palestinian Authority (PA) NGOs which promote boycotts against Israel.