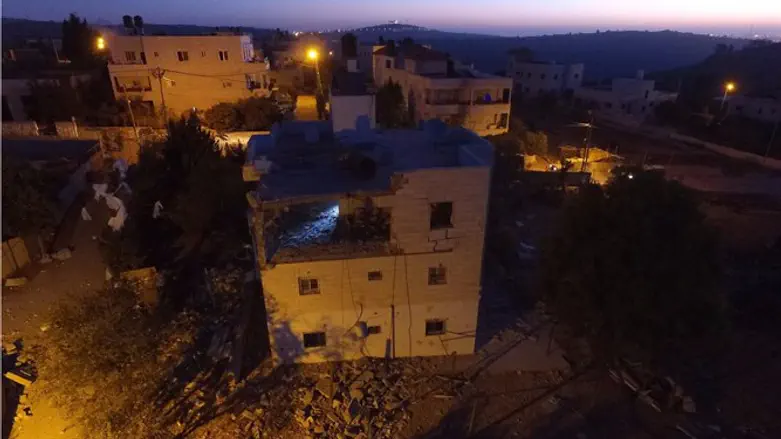 Destruction of terorrist's house
IDF spokesperson
MK Oren Hazan (Likud) strongly criticized the fact that the IDF destroyed only a small part of the house of the terrorist Mahmoud Ahmad al-Jamal from Beit Surik, who carried out the lethal shooting attack in Har Adar on September 26, 2017.

Border Policeman First Sergeant Solomon Gaviria, aged 20, and security guards Yosef Otman, 24, and Or Arish,25, were murdered in the attack. The attack ended when the terrorist was shot dead by one of the guards.
"This is no limit to our weakness," MK Hazan wrote on his Facebook account along with a picture of the damaged building. "This is the 'destroyed' house of the Har Adar terrorist. Yes, this is how it looks after the destruction of the house of the despicable terrorist - may his name be blotted out - who murdered three Israelis. Do you get it? This is after the demolition!"
"My friends, even Moishik Galamin (host of Israeli TV show on home renovation, ed.) would not approach this house because it looks too good. So I ask, where is the proportionality? Are we crazy? Instead of destroying all those who murder and slaughter us to the ground, instead of advancing my law to expel the families [of terrorists] and to deport [this terrorist's] family to Syria, we make fools of ourselves.
"Unfortunately, our new policy seems to be: He who comes to kill you - build him a new home! (paraphrasing a Talmudic saying that 'if someone comes to kill you, kill him first', ed.) What a shame."
תיעוד: הריסת בית המחבל שביצע את הפיגוע בהר אדר