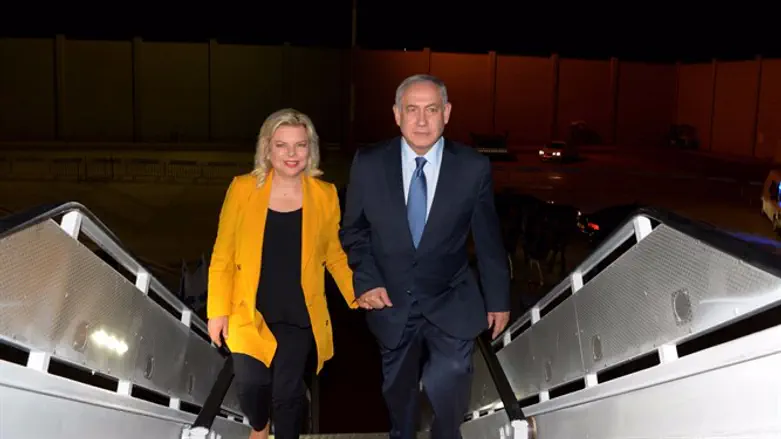 Netanyahu and his wife board the flight to Latin America
Avi Ohayon/GPO
Prime Minister Binyamin Netanyahu on Sunday evening left for a visit to Latin America.
Before taking off, Netanyahu said, "We are leaving now on an historic visit. This is the first time a sitting Prime Minister has visited South America and Central America. We will begin our visit in Argentina. I asked the families of Foreign Ministry employees who perished in the large terrorist attack in Buenos Aires to join me."
"From there we will continue to Colombia and from there to Mexico. I spoke this evening with the President of Mexico, a very moving conversation, and I told him that Israel is ready to provide any assistance at our disposal. He truly appreciated it and we decided to continue our conversation later this week. From Mexico I will go to the United States to speak at the UN General Assembly, and while there I will also meet with my friend President Donald Trump," added Netanyahu.
"I am looking forward to our meeting, to my meeting with President Trump, my friend, in New York, and I would like to take this opportunity to wish all our friends in the United States that they overcome these difficult times. This storm will also pass, and every Israeli citizen prays for the welfare of the citizens of America," the Prime Minister continued.
Netanyahu's wife, Sara, referred to Attorney General Avichai Mandelblit's recommendation to indict her, subject to a hearing, in a series of cases known collectively as the "Residences Scandal".
"I want to say thank you to thousands, thousands, thousands of Israeli citizens and people all over the world who support me and help and encourage me. I want to say that on good days and on less good days, your help and support give me the strength to continue doing the real things I do for all those who need the help I try to provide. May we all have a happy new year," she said.