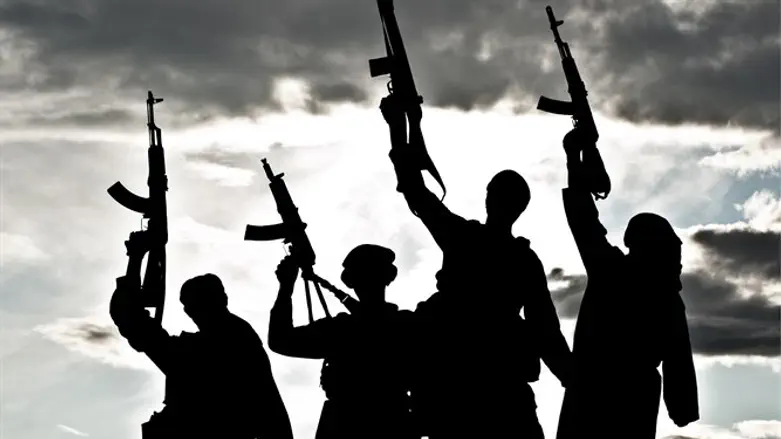 Jihadists (illustration)
iStock
Jihadists on Sunday took over the city of Idlib in Syria after rival rebels withdrew, AFP reports.
The latest developments come after the jihadist group Hayat Tahrir al-Sham, which is dominated by a former Al-Qaeda affiliate and known as HTS, agreed on Friday to a ceasefire with Ahrar al-Sham rebels.
The truce ended a week of fierce fighting between HTS and Ahrar al-Sham, which is backed by Turkey and some Gulf countries, that killed at least 92 people including 15 civilians, the Syrian Observatory for Human Rights said.
"Ahrar al-Sham withdrew from the city of Idlib which is now under the control of Hayat Tahrir al-Sham," Observatory head Rami Abdel Rahman told AFP.
"Hundreds of rebels left the city aboard dozens of vehicles heading towards southern Idlib province," he added.
Abdel Rahman said the HTS set up checkpoints across the northwestern city.
Ahrar al-Sham is part of the Islamic Front, a coalition of seven Islamist rebel groups.
The Islamic Front is made up of members of over 50 rebel organizations, but the Al-Nusra Front, which is now known as Fateh Al-Sham, and the Islamic State (ISIS) are not a part of the group.
The HTS is dominated by Fateh al-Sham faction, which had ties to Al-Qaeda but subsequently renounced them.
The HTS and Ahrar al-Sham were once allies and fought alongside each other to capture most of Idlib province from Syrian government forces in 2015, noted AFP.
The truce they agreed to on Friday calls for the release by both sides of prisoners and the "withdrawal of armed groups from the Bab al-Hawa" border crossing with Turkey.
Bab al-Hawa, which had been controlled by Ahrar al-Sham, would be handed over to civilian administration, it said.
Abdel Rahman said the presence of Ahrar al-Sham rebels has been greatly diminished in Idlib province, which they once dominated. Rebels were left only in Ariha town and part of Jabal al-Zawiya in the southeast, he added.
Syria's conflict began in 2011 with peaceful anti-government protests that were brutally repressed by the government.
It quickly evolved into a full fledged civil war that has killed more than 330,00 people and displaced millions from their homes.