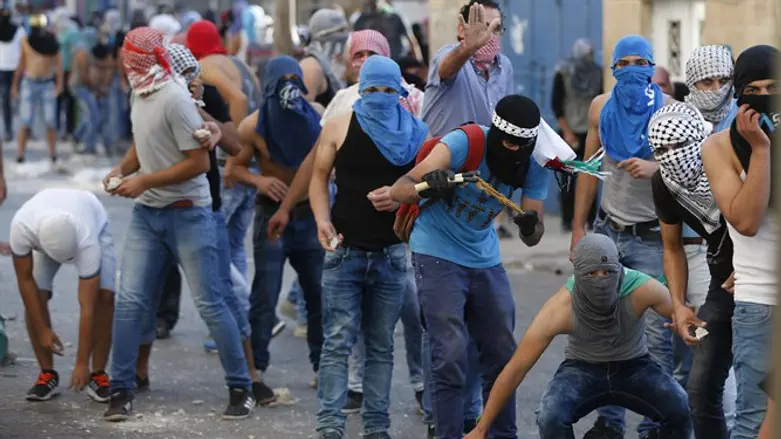 Arab rioters in Issawiya, Jerusalem
Flash 90
Dozens of Arab rioters attacked Israeli police and Border Police units deployed in eastern Jerusalem Tuesday night and Wednesday morning, a police spokesperson reported on Wednesday.
The riots began Tuesday in the Old City of Jerusalem, quickly spreading to the Ras al-Amud neighborhood. Arabs in the Old City threw rocks and bottles at police, injuring two officers.
By early Wednesday morning, the riots had spread to Silwan, near the City of David, where dozens of Arab rioters hurled fire bombs and stones at police and Border Police officers at a number of locations across the neighborhood. Rioters also shot fireworks at officers before being dispersed by security forces.
Rioters also attacked police Wednesday morning in the Arab neighborhood of Issawiya. Fire bombs were hurled at officers before the attackers were dispersed by security forces. No officers were injured in the attack.
One Israeli woman was injured after Arabs threw stones at a car near the Beit Orot neighborhood on the Mount of Olives.
The disturbances come hours before demonstrations planned as part of the "Day of Rage" declared by Palestinian Authority leaders and Muslim clerics in protest of new security measures put in place on the Temple Mount following last Friday's terrorist attack.
Two Israeli Border Police officers were shot and killed by three Israeli-Arab terrorists during the attack. It is believed that the terrorists smuggled automatic weapons onto the Mount and stored them in a mosque with the help of officials from the Jordanian Waqf, the Islamic trust which manages the Muslim sites on the Temple Mount.
Among the preventative measures adopted by Israeli security forces following the terror attack are the installation of new security cameras around the Temple Mount and special metal detectors known as magnetometers at the entrances to the holy site.