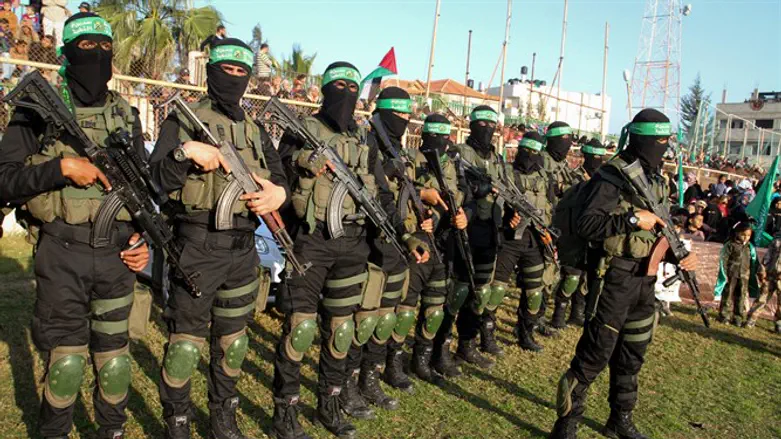 Hamas terrorists in Gaza
Abed Rahim Khatib/Flash 90
Hamas announced on Wednesday it would unveil an amended version of its 1987 founding charter next week, without detailing the change, AFP reports.
The movement which rules Gaza said on its website that the announcement would be made on Monday in Doha by its chief Khaled Mashaal, who lives there in exile.
Hamas's charter advocates the destruction of the Jewish state and the establishment of an independent state in all of what is considered "historic Palestine".
While the group did not reveal the changes in the charter, a document published earlier this month by the Al Mayadeen news website revealed plans to soften the group's charter so that it recognizes a Palestinian state along the pre-1967 borders, but still does not recognize Israel.
Hamas officials previously told the London-based Asharq al-Awsat newspaper that the group would release the new charter as part of its efforts to help its standing in relation to the international community and Arab countries, chiefly Egypt.
Cairo has accused Hamas of being involved in terrorist attacks in the Sinai, most of which have been carried out by the Sinai Province, which is the Islamic State (ISIS) affiliate in Egypt. Hamas denies the accusations.
Hamas is designated a terror group by Israel and much of the international community.
Hamas and Islamic Jihad are the only Palestinian Arab movements not to have joined the Palestine Liberation Organization (PLO).