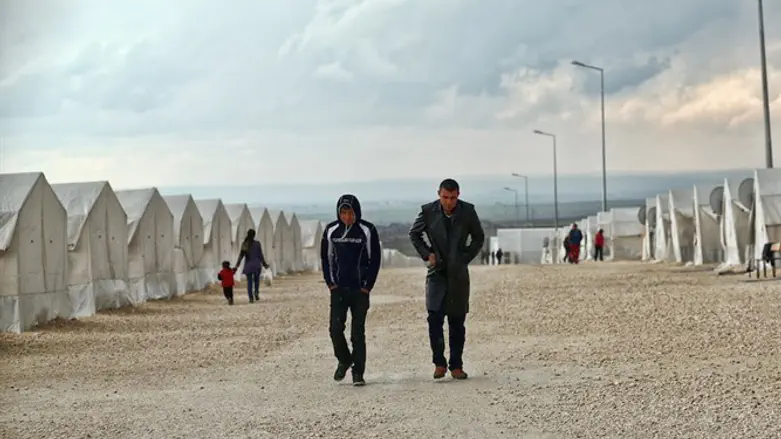 A view of the Suruc refugee camp in Turkey, which houses some 35,000 Syrian refugees.
Carl Court/Getty Images
At a Shabbat service in Tel Aviv on Friday evening, congregants recited the mourner's prayer for those killed in Syria's civil war.
Standing before a mural of the Tree of Life, the rabbi of the city's Beit Daniel synagogue in Israel, delivered a sermon on the Jewish obligation to condemn the savagery of the war. And a bar mitzvah boy led a prayer for peace in honor of the Syrian people, whom Israelis have long considered enemies.
"When you include something in your prayers, you push it to a higher level of consciousness," said Beit Daniel member Gilad Kariv. "We declared that the Syrian people are rooted in the deepest part of our soul as individuals and as a community."
After an apparent chemical attack in Syria on April 4 killed dozens of people, including children, liberal and Orthodox Israeli Jews alike adapted their Pesach (Passover) prayers to address the tragedy unfolding just across their northern border. They found inspiration to pray for Syrians in the story of the holiday, which some Jews have long interpreted as urging sympathy for the oppressed — and even the oppressor.
Kariv explained that if inheritors of that Jewish tradition can find room to forgive the biblical Egyptians, he said, Israelis can certainly sympathize with Syrians, with whom they have battled and never made peace.
"Despite the fact that Israelis can identify the Syrian people as our enemies, the vast majority of us feel deeply saddened about what is happening next door," he said. "We are using this tradition to remind us to have sorrow for the suffering of all people."
Zeev Keinan, a leader in the Maayanot synagogue in Jerusalem, delivered a Torah commentary on Friday about whether Israelis should pray for the Syrians. His conclusion – yes – was not a surprise to anyone who read the prayer he wrote several months ago for the Syrian people on behalf of the movement. He said the prayer, which has been widely distributed, is being read at his synagogue and others throughout Pesach.
Appropriately, Keinan noted, a line from the prayer is taken from a passage of Exodus that refers to the aftermath of the final plague God inflicted on the Egyptians: the death of every non-Jewish firstborn son.
Keinan, whose mother is a Holocaust survivor, said repurposing the phrase "there is not a house without one dead" (Exodus 12:30) is in keeping with the Passover tradition. In addition to the spilling of the wine, Keinan referred to the Talmudic story that God stopped the angels from rejoicing when the Egyptian soldiers who were pursuing the fleeing Israelites drowned in the Red Sea, saying, "How dare you sing for joy when My creatures are dying."
And a prayer for Syrians has been making the rounds online ahead of Passover. Written in 2013 by leading Religious Zionist ethicist Rabbi Yuval Cherlow, the prayer reads in part: "We beseech You in prayer to arouse in the killers their basic humanity and evoke mercy in their hearts, that they may recognize that we are all created in the image of God, and that there are limits even to human cruelty."
Rabbi Cherlow said he wrote the prayer, despite a reluctance among Orthodox Jews to add to Jewish liturgy, out of concern for the "civilians and children" in Syria. He said Jews are commanded "as part of our going out of Egypt" to observe that they are allied with any oppressed or displaced people. But Cherlow acknowledged being uncertain about what exactly to ask of God, given that most of the warring parties in Syria could be considered enemies of Israel.
"In this case, I can't say we know what we wish for," he said. "While I can't use the term 'happy,' I prefer the bad people shoot each other and not kill me."
Echoing the overwhelming sentiment in this country, Cherlow said Israel has little choice but to maintain its policy of nonintervention in Syria. Most Israelis feel getting involved would accomplish little and risk incurring the wrath both of Syrian President Bashar Assad and his backers Iran, Hezbollah and Russia, as well as the radical Islamic rebel groups, including the Islamic State, that seek to topple him.
Still, Cherlow emphasized that prayer is not enough in the face of evil, and said the events in Syria also inspired him to demand action. He recently recommended to the army's chief of staff, Gadi Eizenkot, that the Israel Defense Forces expel reserve soldiers who assist as mercenaries in conflicts in African and South American countries, among others, and formally add ethical considerations to its decisions about weapons sales.
According to Kariv, Israel's Reform movement plans to issue a letter on Wednesday demanding that Israel, which has not taken in any Syrian refugees, welcome 100 orphan children from the country — a plan proposed earlier this year by haredi Interior Minister Aryeh Deri (Shas).