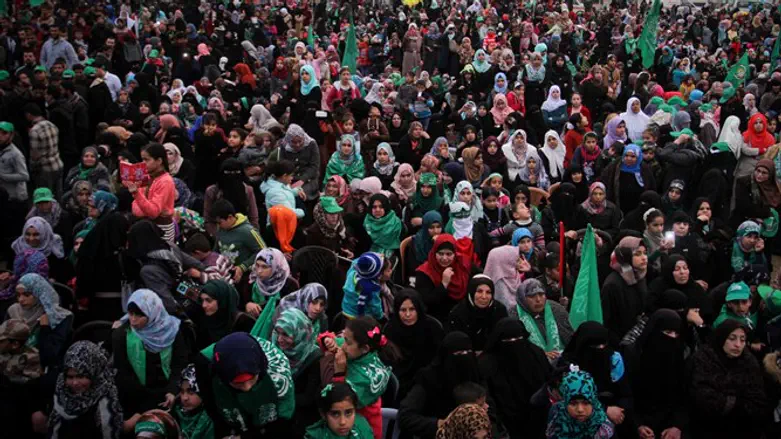 Hamas rally in Gaza
Abed Rahim Khatib/Flash 90
A Hamas political document leaked on Sunday reveals plans to soften the group's charter so that it recognizes a Palestinian state along the pre-1967 borders, but still does not recognize Israel, the Yediot Aharonot newspaper reports.
The document was published by the Lebanese news site Al Mayadeen. It is due to be officially released in the coming days by Hamas leader and politburo chief Khaled Mashaal.
Hamas officials told the London-based Asharq al-Awsat newspaper last month that the group would release the document as part of its efforts to help its standing in relation to the international community and Arab countries, chiefly Egypt.
"It is possible to agree to a state within the 1967 borders, but it does not necessarily include recognition of Israel and does not mean that there is a relinquishment of historic Palestine," the new charter states, according to Yediot Aharonot.
"The liberation of Palestine is the duty of the Palestinian people, and the resistance to the occupation is a legitimate right, and armed resistance is a strategic choice. Our right to develop and manage the means of resistance is included in the framework of managing the conflict and not at the expense of the principle of resistance," it adds.
The document makes a distinction between Israel and Zionism on one side and the Jewish people on the other.
"We distinguish between Judaism and Israel and the Zionist program, and our conflict is with the Zionist plan and not with the Jews," it says.
In the document, Hamas also recognizes the Palestine Liberation Organization (PLO), of which it is not a member, as a Palestinian national framework, but it also criticizes the Palestinian Authority and states that it must serve the Palestinian people, maintaining their security and rights.
According to the reports last month, the document will also make clear that Hamas is an independent organization not tied to the Muslim Brotherhood.
This declaration is expected to help Hamas it in its contacts with the Egyptian authorities who are demanding that Hamas be fully disconnected from the Muslim Brotherhood, which is blacklisted as a terrorist organization in Egypt.
Hamas has been working to improve ties with Egypt that have been strained under President Abdel Fattah Al-Sisi.
Cairo has accused Hamas of being involved in terrorist attacks in the Sinai, most of which have been carried out by the Sinai Province, which is the Islamic State (ISIS) affiliate in Egypt. Hamas denies the accusations.
Senior Hamas leader Ismail Haniyeh recently visited Cairo for talks with Egyptian leaders. Following his visit, a senior Hamas security delegation visited Egypt as well.