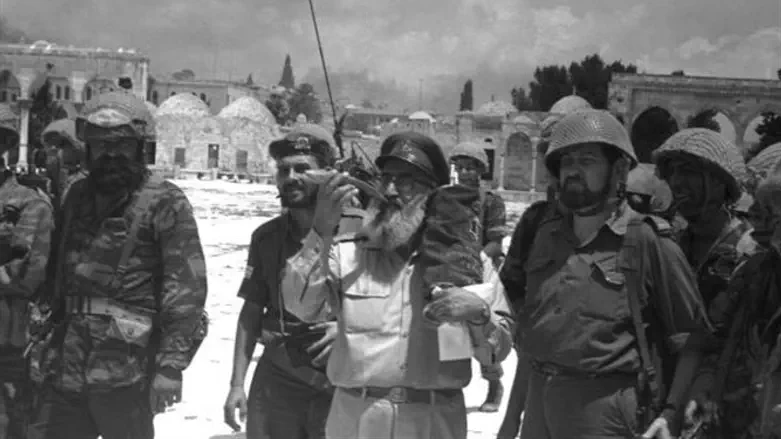 Rabbi Goren at Temple Mount's liberation
צילום: אלי לנדאו, לע"מ
The Figure of the Year in Israel's religious public education system (Hemed) is Rabbi Shlomo Goren, once Chief IDF Rabbi and Chief Rabbi of Israel, and his wife, Tzofia.
Hagit Lazar, who is in charge of elementary social education in Hemed, tells Arutz Sheva about the special personage accompanying students throughout the year, especially in Hemed week, which began this week.
"Every year we choose a rabbi who will accompany our studies throughout the year so that the students will connect to and recognize rabbinic figures of religious Zionism," Lazar says. "Rabbi Goren, who lived with us since the establishment of the State of Israel, was the one who demanded from Ben-Gurion that all units with religious soldiers have kosher food; he bristled because he said that the people of Israel did not wait two thousand years for our army's food not to be kosher."
According to her, Rabbi Goren became a symbol for the children of Hemed, "They read stories, see plays, and learn about his devotion in the sweltering heat to draining the marshes - all the while with his father, who had contracted fever, and about the pressure upon them to return to the Diaspora, and of course about his unending Torah study under any conditions and any situation," she says.
Lazar emphasizes that this year, marking the 50th anniversary of the Six-Day War and the liberation of Jerusalem, Rabbi Goren stands out: "Everyone knows the picture of Rabbi Goren blowing the shofar at the liberation of the Western Wall. He is the Rabbi who saw the Era of the Redemption, and this is what we want to give to our students. For me, the story about the kosher food is the quintessential story, but especially the role of seeing the greatness of the moment, to see the depth of the establishment of the State after two thousand years without an army. To learn how Rabbi Goren, a student in the Hevron Yeshiva, met Rabbi Kook by chance and became his greatest student, defending him from the criticism of the zealots of the time. Rabbi Goren's tears on the Temple Mount and the prayer for the Temple's rebuilding are inspiring. Also outstanding were his great concern for IDF's fallen soldiers and bringing them to a Jewish burial."
Lazar says there is no doubt that Rabbi Goren's personality is getting through, "Last year we saw students dress up as Rabbanit Kapach (the previous Figure of the Year), and this year there's no doubt that Rabbi Goren's example has captured the students. Not only do they know his entire life story, but also know his teachings and heritage and they even learned about his wife, Tzofia Goren, the daughter of the Rabbi the Nazir, who served as his helper, and who is also a figure in her own right. "