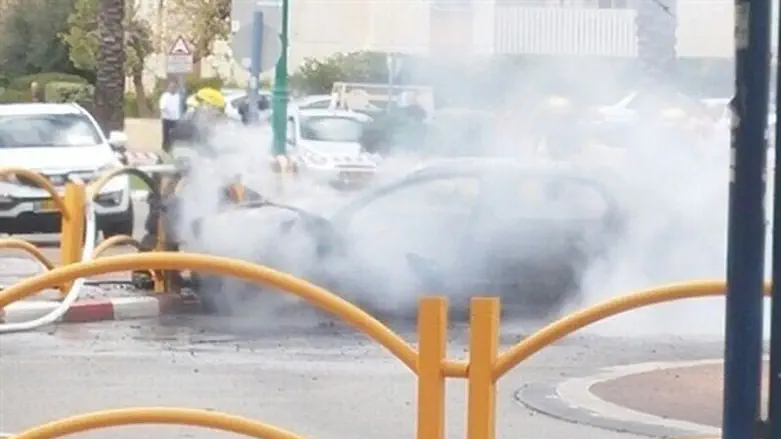 Scene of the explosion in Kiryat Yam
Fire Department
A vehicle exploded Thursday afternoon in the northern coastal town of Kiryat Yam, outside of Haifa.
Police say three people were injured in the incident. One of the injured, who was initially listed in critical condition, later succumbed to his injuries.
Of the two survivors of the attack, one is in serious condition, while the other was lightly injured.
Authorities are currently investigating the explosion, and no background has yet been firmly established, though police indicate the matter is likely criminal in nature and unrelated to terrorism.
The apparent car bombing may have been a gangland assassination, say police.
"When we reached the scene [of the explosion], we saw a car in the traffic circle that was completely torched," said MDA first responders Hassan Hativ and Raz Diamand.
"We saw three youths in their 20s [in the car]. One was unconscious and suffering from multiple organ injuries, burns, and smoke inhalation. The second was fully conscious and also suffering from burns on the upper part of his body; his condition was rated as moderate to serious. The third [victim] suffered from burns on his limbs, and his injuries were listed as light."