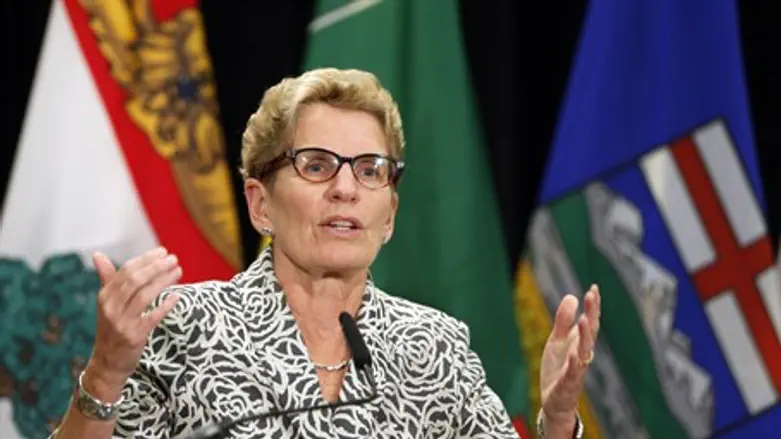 Kathleen Wynne
Reuters
After a bill against the Boycott, Divestment and Sanctions (BDS) was rejected by the Ontario parliament, Premier Kathleen Wynne plans to work with members of the opposition to draft a new motion on the issue, The Canadian Jewish News reports.
Wynne made the pledge in response to the controversy surrounding "The Standing Up Against Anti-Semitism in Ontario Act," a private member's bill that was introduced last month at Queen's Park by Conservative MPP Tim Hudak and Liberal MPP Mike Colle, with the backing of Friends of Simon Wiesenthal Centre for Holocaust Studies president and CEO Avi Benlolo. The motion was defeated by a vote of 39-18.
The bill identified the BDS movement as "one of the main vehicles for spreading anti-Semitism and the delegitimization of Israel globally and is increasingly promoted on university campuses in Ontario… leading to intimidation and violence on campuses."
It called on the province, as well as on colleges and universities, to abstain from doing business with companies that support the BDS movement.
When the anti-BDS bill was defeated on May 19, Wynne was in the middle of a trade mission to Israel, during which she spoke out against the BDS movement and anti-Semitism in any form, but also stressed Ontario must protect free speech in the province.
"Freedom of speech is something that all Canadians value and we must vigorously defend," she said at the time, adding, "But, it's unacceptable for students, or parents, or children to feel unsafe or discriminated against."
Upon her return, noted The Canadian Jewish News, Hudak challenged her in parliament, saying, "Premier, you say you oppose the BDS movement, but the problem is you opposed the bill and you opposed a solution on how to combat the growing anti-Semitism in our province and across campuses. Surely, it is time to take a stand."
Wynne responded with a suggestion, saying, "Let's figure out if we can craft a motion that is not divisive, that is actually unifying in nature, Mr. Speaker, that actually is not flawed."
"I made this commitment when I was on the mission, Mr. Speaker, that we would work with the opposition parties and that we would try to come up with a motion that would pass in this legislature that would reflect the inclusiveness of all the members of this legislature… in the coming weeks," added Wynne.
Gila Martow, a Member of Provincial Parliament representing the largely Jewish riding of Thornhill, called Wynne's pledge "a step forward," but added she didn't like her use of the word divisive.
"To me, the only thing I see that is divisive is her [pro-Israel] opinion," given that the rest of her caucus voted against the bill," said Martow, according to The Canadian Jewish News.
Moreover, Martow said Hudak and Colle had proposed a ban, unlike the more symbolic federal motion passed in February, in which the  House of Commons passed an Opposition resolution that urged the government to "condemn any and all attempts by Canadian organizations, groups or individuals to promote the BDS movement, both here at home and abroad."
"A bill means you will lose your funding. A bill has teeth. A bill means there is something we can do about it," Martow said. "I'm not satisfied with a motion or resolution… she's trying to water down the bill."