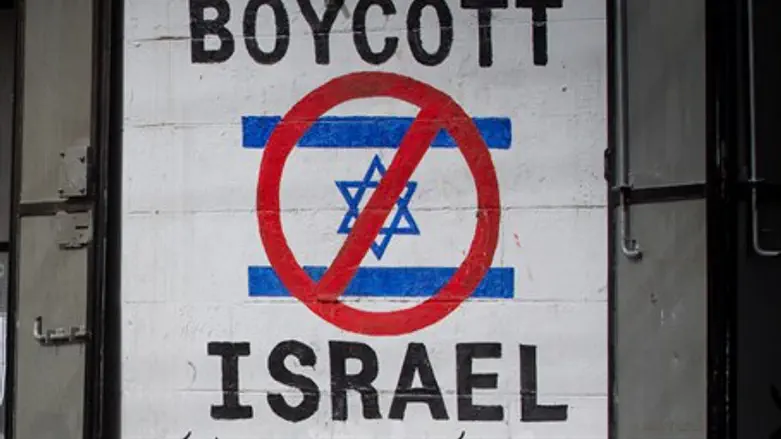 BDS graffiti sign
Miriam Alster/Flash 90
A significant majority of Stanford University students oppose the Boycott, Divestment, and Sanctions (BDS) movement - despite an anti-Semitism and BDS crises that rocked the university student board earlier this year. 
69% of students oppose the anti-Israel movement - including 65% of freshmen, 72% of sophomores, and 73% of juniors, the Stanford Review poll of 288 students revealed. 
The poll contradicts a high-profile anti-Semitism crisis related to BDS at Stanford - and raises questions about the power of pro-Palestinian groups on campus. 
In April, Stanford student senate member Gabriel Knight infamously argued it is "not anti-Semitism" to claim Jews control "the media, economy, government and other social institutions," as well as questioning the reliability of the Anti-Defamation League (ADL).
After an Arutz Sheva investigation and a media outcry, as well as backlash from the ADL itself, Knight stepped down from his post. 
Knight's statements, inter alia, sparked changes to the university's charter on anti-Semitism - changes narrowing the scope of anti-Semitism to exclude Israel.
All were heavily backed by several groups reeling from the board rejecting a BDS motion last year - including Students for Justice in Palestine (SJP) and the Students of Color Coalition (SOCC). That motion sparked its own controversy, after several students attempted to vote twice for the bill - and over 90% of the would-be fraud votes were in support for BDS. 
SJP is allegedly planning on re-introducing the BDS bill this year, the Review reports - despite several students noting to the daily that the motion remains controversial and unpopular.