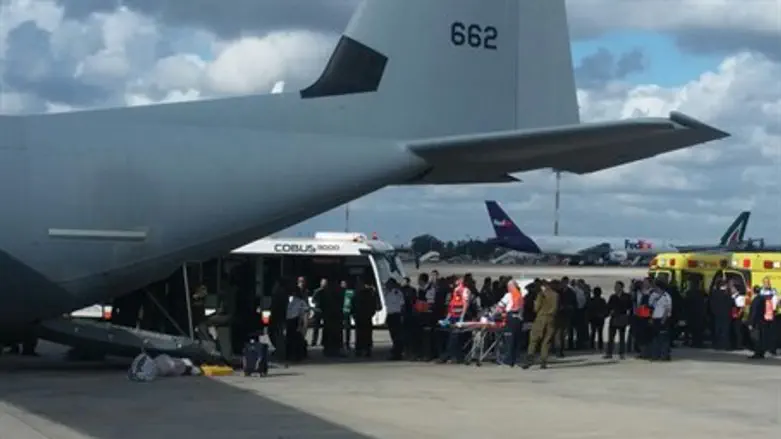 Istanbul victims arrive in Israel
Yoni Kempinski
An IDF delegation that set off for Turkey on Sunday morning arrived back in Israel in the afternoon hours, bringing with it the three Israelis murdered in an Islamic State (ISIS) bombing attack in Istanbul on Saturday, as well as five Israelis who were wounded in the blast.
In addition to the coffins of Simcha Damari, Yonatan Suher, and Avraham Goldman, the plane was carrying five injured Israelis who varied from moderately to seriously wounded.
The funeral of Damari, 60, has been set for Monday at 12 p.m. at the Dimona cemetery, while Goldman, 69, is to be buried at the Holon cemetery on Monday at 4 p.m. The time has yet to be announced for Suher's funeral.
Earlier on Saturday night five other Israelis who sustained light injuries in the attack were transported back home by plane. The attack was perpetrated by suicide bomber Mehmet Ozturk, a 23-year-old terrorist affiliated with ISIS, who also murdered an Iranian in his attack on a popular tourist street.
Before Sunday's plane set off for Israel, a ceremony was held at the Istanbul Airport in memory of those who were murdered. The families of the murdered were in attendance.
"We stand here on Turkish land, nearly 24 hours after the horrific terror attack that took place here," said Col. Yair Barkat, commander of the IDF Homefront Command's rescue unit and head of the delegation, at the ceremony.
"We came here with forces from the Air Force, Medical Corps, Homefront Command and the Military Rabbinate in order to conduct our mission - to return the wounded home."
"I would like to send my condolences to the families of those who were killed and to wish a speedy recovery to the wounded," said Barkat.
In the aftermath of the attack, a member of the Turkish ruling party tweeted that she wished all the Israelis wounded in the attack would die - before being promptly fired from her post.