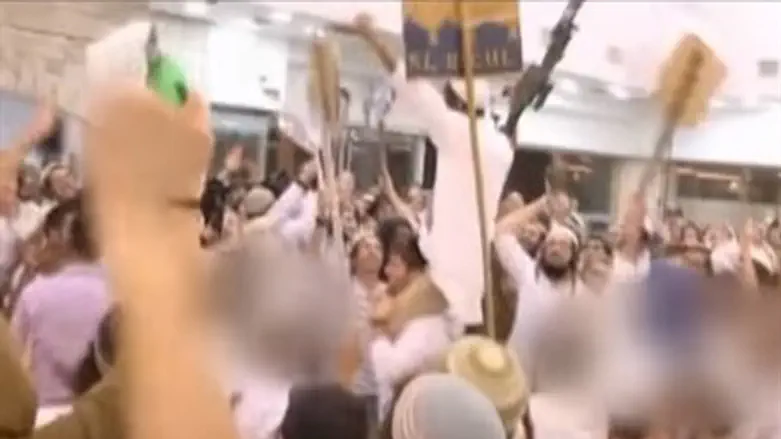 Wedding dance (file)
Channel 10
An IDF soldier from the Netzah Yehuda Battalion was sent to 21 days of incarceration starting Friday, after he apparently let his personal weapon be taken and danced with by participants during a controversial wedding.
The weapon was one of several firearms,as well as toy guns, and knives waved in the air during a dance apparently celebrating the deadly Duma arson. Video from the wedding three weeks ago was leaked to the press last week, in which one masked individual is seen holding a picture of the Arab baby murdered in the Duma attack and stabbing it at one point.
After the video was leaked, IDF Chief of Staff Gadi Eizenkot ordered an investigation to see whether soldiers were present at the wedding.
The soldier was sentenced by the Kfir Brigade Commander Col. Guy Hazut, and sentenced to incarceration. He was charged with standing by as he saw his weapon passed around and waved in the air, without trying to take the gun back.
Several people, including the groom, have been arrested for taking part in the wedding and summarily released, after the judge accepted the argument of their lawyers that there is no criminal element in their activities.
"I expect that the police will this very day arrest everyone celebrating in Umm al Fahm and Rahat who wave and even shoot weapons during weddings," said attorney Itamar Ben-Gvir following the release of one man, noting on how Arab weddings frequently include live gunfire in the air.
Hazut also on Friday sentenced two other Netzah Yehuda Battalion soldiers, who were under investigation for alleged violence against Palestinian Arab detainees.
The Kfir Brigade Commander ruled that the two did not act as expected of them, and therefore removed one from the battalion to be reassigned, while the other will be suspended from his role as a combat soldier and transferred to a "desk job" administrative role.