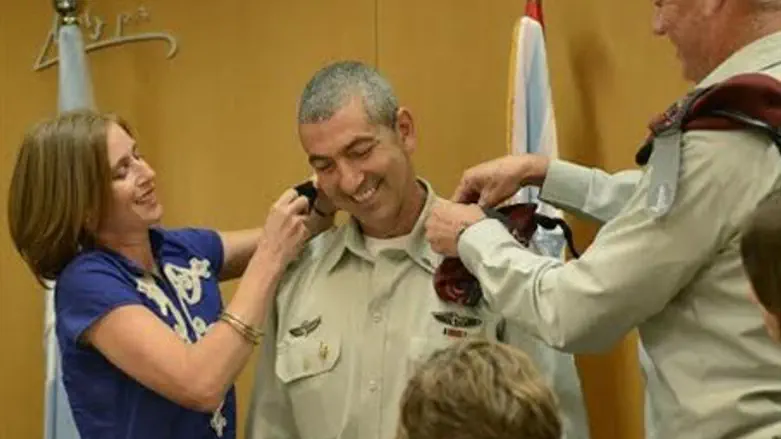 Roni Numa during appointment as General
IDF Spokespersons Unit
Outrage has steadily mounted after the IDF issued a recommendation to the political echelon to arm and militarily strengthen the Palestinian Authority (PA) in the hope that doing so would end the current wave of Arab terror.
According to the recommendation, which Arutz Sheva has learned was briefed to military reporters by Central Command chief Roni Numa, PA Security Forces would be given armored vehicles, weapons and ammunition. 
Shortly after the press briefing, Prime Minister Binyamin Netanyahu demanded an explanation from the military echelon. 
While Netanyahu rebuked Numa and insisted there were no plans to approve arms for the PA's security forces, Defense Minister Moshe Ya'alon apparently refused to oppose the IDF proposal, nor would he reprimand Numa. 
Arutz Sheva has also learned that a senior government official expressed shock over Ya'alon's refusal to reproach Numa, saying, "it raises serious concerns that the Central Command did not issue such a bizarre proposal to journalists on his own. 
In addition to arming the PA, the IDF also reportedly suggested enlarging the amount of work permits given to Palestinian Arabs in Judea and Samaria - particularly for young Arabs - allowing them to enter sovereign Israeli territory.
It also called to enlarge the number of Arab building permits in Area C of Judea and Samaria, which is under full Israeli control according to the Oslo Accords, and to release Arab prisoners, potentially including seasoned terrorists.
The recommendation has faced fierce condemnation from Judea-Samaria leadership, with Kedumim Regional Council head Hananel Dorani blasting the proposal on Wednesday as "an abandonment of our lives."
"If the senior army commanders aren't able to provide security themselves and rely on the terrorists of the Palestinian Authority, it would be better for them to step down and let their betters take their place."