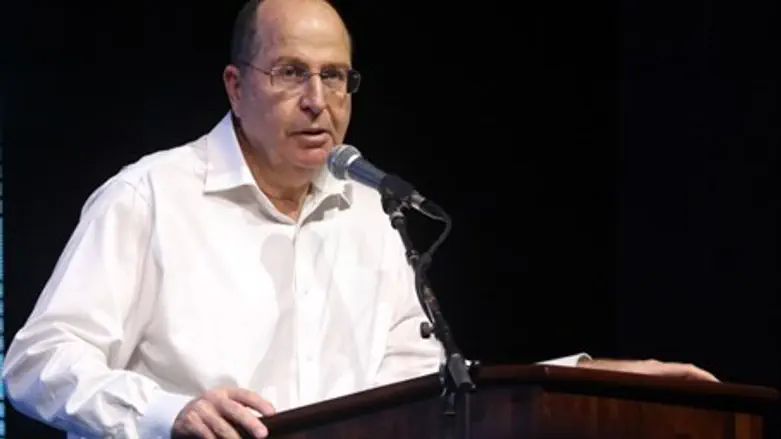 Defense Minister Moshe Ya'alon
Flash 90
Defense Minister Moshe Ya'alon on Monday spoke with his French Defense Minister Jean-Yves Le Drian and offered Israel's support in the wake of the terrorist attacks that took place in Paris on Friday night.
Ya'alon expressed his condolences to the families of the victims, wished a speedy recovery to the wounded and spoke to his French counterpart about strengthening the cooperation between Israel and France in fighting Islamic terror.
"Israel will provide all the necessary assistance to France, as always, in the fight against Islamic terrorism, both in terms of intelligence as well as operationally. These are also the instructions that were given to the security services in Israel after the attack," Ya'alon said.
"We are on the same page with regard to the fight against this terrorism which threatens the Middle East, Europe and the rest of the world. We are here to provide you with any assistance required, as always, and are ready to continue the extensive cooperation between the two countries in the resolute and determined war that is required of all of us against Islamic terrorism," he continued.
"I look forward to seeing you in Israel early next year so that we can discuss the continued security cooperation between the two countries and how to promote it. For us, there is a very great importance to this," Ya'alon told Le Drian.
A political source told Arutz Sheva several days ago that there is full cooperation between France and Israel in investigating the violent attacks in Paris.
"We handed over to France meaningful information that can help them in attempting to decipher the complete picture. We will continue to assist the French in any way in the common struggle against terrorism," the official said.
Prime Minister Binyamin Netanyahu was asked about the issue of intelligence coordination during his press conference on the Paris attacks Saturday night, and he would only say that "Israel has intelligence, we are not exactly a marginal element in this area, and the information we have we share with France and with other relevant countries, not only over the past 24 hours."
Ya'alon on Sunday said that European nations must reduce their focus on human rights in favor of more security to avoid a repeat of the Paris attacks.
"In Europe, the balance between security and human rights has until now leaned in favor of human rights, but there is no longer any choice," Ya'alon told Army Radio. "The balance must now be tipped toward security to defend democracy."
He urged laws to allow for a "more effective fight against terrorism."
"Europeans understood that there was a danger, but the measures that should have been taken were not, such as changes in legislation allowing surveillance of potential terrorists, for example," the minister said.