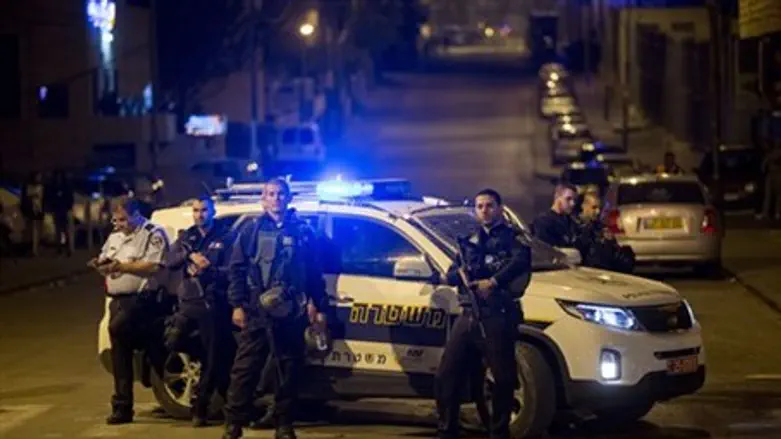 Police checkpoint (file)
Flash 90
An Arab man on a scooter attempted to abduct a year-old Jewish baby who stood next to his mother on a Jerusalem sidewalk, the mother said. The Moriah region police is investigating the incident, which took place Saturday evening.
"It was terrible, I was in shock," the mother – Yaheli Badihi – told the newspaper Yediot Aharonot.
Yaheli, her husband Tzod and their son Zohar live in the community of Keshet, in the Golan Heights. At week's end they drove to Jerusalem to visit Tzod's grandmother, who lives in Ahuzat Beit Hakerem in Jerusalem.
When they were about to go back home, Tzod was still in his grandmother's home, and Yaheli went outside with the baby and began to place his stroller in the boot of their car.
"I put the stuff on the sidewalk, next to me, and Zohar sat on the sidewalk right next to me, with his feet on the road," she recounted. "I was putting in the equipment and I got a little tied up with the for a moment stroller. Suddenly I heard Zohar screaming in an unfamiliar way. I turned around and I saw someone on a scooter with one foot on the vehicle and one foot on the asphalt."
The scooter driver was leaning forward, she said, and had caught a hold of her son. "He turned in our direction, caught Zohar by the armpit and lifted him up from the sidewalk. I tried to pull him away from him and I couldn't, so I hugged him from the back and pulled him hard in my direction. He actually had Zohar in his hands.
"Luckily for me he was leaning forward, so he was unable to bring all of his strength to bear. I let out a crazy scream, and people turned around and looked. When he realized he didn't stand a chance, he said in a heavy Arabic accent, 'I thought it was a doll,' and guffawed and escaped."
The couple called the police and began driving home toward the Golan Heights. A squad car from the Wadi Ara region was sent to meet them halfway on Highway 6, and they gave testimony. They were then asked to give testimony at the local police station, too, before they continued home.