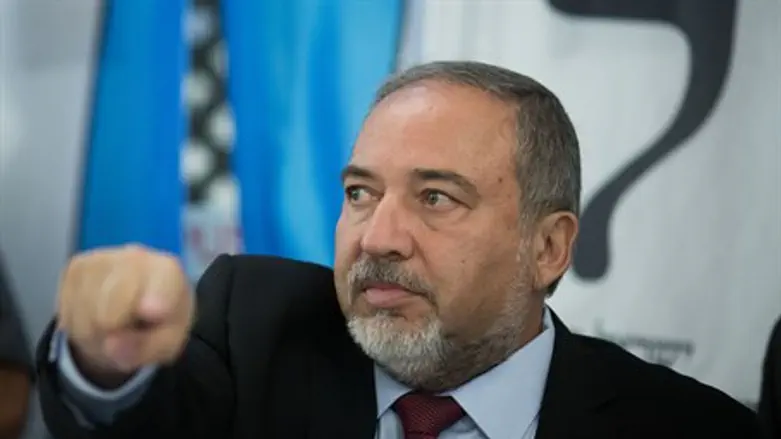 Avigdor Liberman
Yonatan Sindel/Flash 90
Yisrael Beytenu chairman MK Avigdor Liberman on Monday night blasted Prime Minister Binyamin Netanyahu, after Netanyahu agreed to transfer a budget supplement of 900 million shekels to the Arab municipalities, who threatened not to start the new school year, which begins Tuesday, on schedule due to budget shortfalls.
Earlier, Netanyahu convened a discussion with the participation of Prime Minister's Office Director General Eli Groner and members of the Arab Joint List, in which an agreement was reached on an outline that includes moving forward – within 30 days – on a multi-year plan on economic integration and reducing gaps by enacting structural changes.
Agreement was also reached on one-time budgetary supplements to strengthen Arab sector local councils.
"Netanyahu's decision to give Ayman Odeh and his anti-Zionist partners an accomplishment in the form of an announcement after a meeting with them to transfer 900 million shekels to the Arab municipalities, is a shot in the foot of the Zionist state," Liberman charged after the announcement was made, referring to the head of the Joint List.
He made clear that he does not oppose additional funds to the Arab sector, but said this should not be done through the Arab MKs.
"Netanyahu's decision to do so through Ayman Odeh Ahmed Tibi, Jamal Zahalka and Masud Ganaim, who represent a political list which equated Zionism to ISIS and some of whom are supporters of terrorism and 'flotilla participants' who justified the abduction and murder of three teenagers, is national irresponsibility bordering on recklessness," said Liberman.
"Rather than strengthening the moderate elements among Israeli Arabs, the prime minister reinforces the most extreme who are a fifth column in Israel's Knesset," said the former foreign minister. "The same Netanyahu who warned against the Arabs who flocked to the polls on buses helps those among them who want to see Jews being deported from here on buses," he concluded.
This is not the first time that Liberman has attacked Netanyahu on this issue. In May, he attacked Netanyahu over a planned meeting with Odeh.
"Odeh is one of the fiercest opponents to the legitimacy of the State of Israel," Liberman said. "By meeting with him, the Prime Minister is bestowing legitimacy on him to continue his work on fostering Israel's fifth column" of Arabs who seek to destroy the state, he added.
"We do not have the luxury of being mistaken," Liberman stressed. "The difference between Odeh and traitorous MK Azmi Bishara," who fled Israel after being accused of handing sensitive information over to Hezbollah, "is like the difference between Iran's former President Ahmadinejad and current President Rouhani. Odeh too has a smiling face that hides his true desire to destroy Israel, as Bishara tried to do."
Liberman and other members of his party have been particularly vocal with their criticism of Netanyahu in recent days. On Sunday night, MK Sharon Gal said Netanyahu's government is not a rightist coalition despite claiming to be so.
"Those who today look what happened in Kedumim - a shooting attack that has not received a response, and those who see the images of a Golani fighter being beaten and humiliated and not being backed up, and anyone looking at Judea, Samaria and Jerusalem and not seeing any construction, he realizes that the government is 'supposedly' right wing," charged Gal.
"This is a government of all talk and no action," he continued. "There is a wild incitement of people within the Knesset against the State of Israel and the IDF."