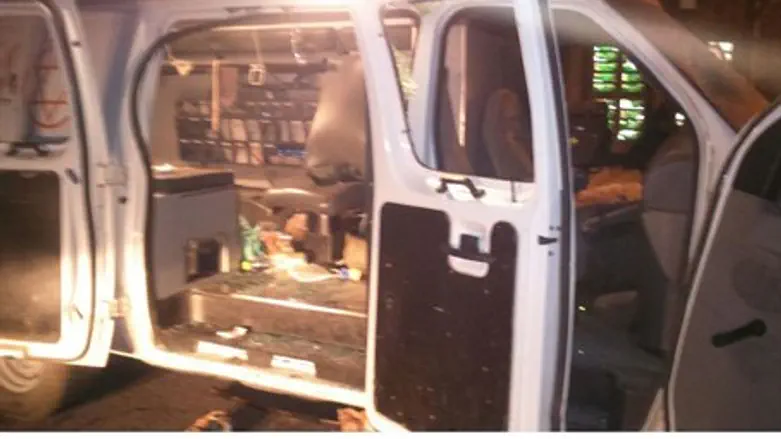 Attacked IDF ambulance
IDF Spokesperson Unit
Around ten Israeli Druze were arrested on Tuesday night on suspicion that they took part in the "lynch" attack on an IDF ambulance Monday night in the Golan Heights.
The arrests targeted both Druze in villages in the Golan Heights as well as in the Galil region. They are currently being investigated by the police, reports Yedioth Aharonoth.
Several of those arrested are suspected of having attacked the ambulance near Majdal Shams in the Golan, where one of the wounded Syrians on board was murdered by the assailants, while others are thought to have attacked an ambulance in Hurfesh.
An extension on the arrest will be discussed for several of the suspects at the Nazareth Magistrate's Court.
In the incident in Hurfesh, the identity of at least one of the attackers was known to the police, as he was run over by the ambulance he was attacking and brought for medical treatment at a hospital in Nahariya.
The incident shocked many in Israel, as one of the Syrian nationals was murdered in the Majdal Shams attack and another Syrian was critically wounded, while the two IDF soldiers in the ambulance were lightly wounded.
On Tuesday it was revealed that an IDF soldier may have passed information to the Druze and thereby set off the attack.
Israeli Druze have accused Israel of providing medical treatment to jihadist rebels, who have carried out massacres against Druze in Syria. Both Israel and the IDF have strenuously denied providing medical care to terrorists.
Prime Minister Binyamin Netanyahu responded to the incident on Tuesday, saying, "we will not allow anyone to take the law into their own hands. We will not let anyone interfere with IDF soldiers in their mission. We'll find the perpetrators of the lynching and we will bring them to justice. We are a lawful state, not part of the anarchy around us."
Druze leaders widely condemned the attack overnight Monday as "serious and unnecessary," even as Druze residents of Majdal Shams celebrated it.