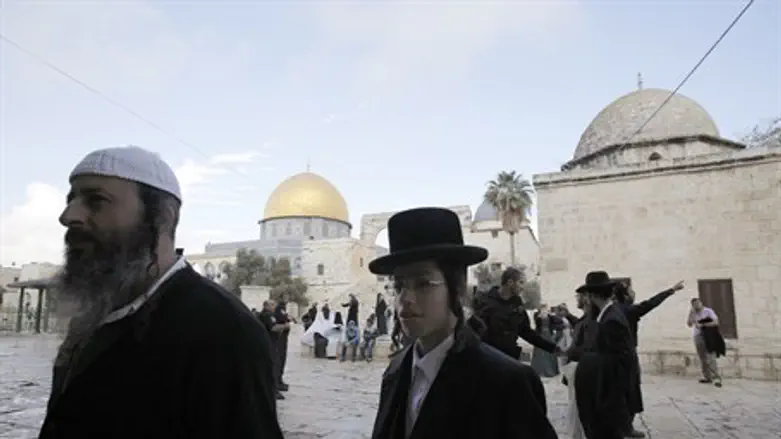 Jewish visitors on Temple Mount
Reuters
A number of members of the Return to the Mount movement have received threatening phone calls on Thursday from the Israel Security Agency (ISA or Shin Bet). 
The reason? According to attorney Itamar Ben Gvir, it is a march expected to take place Thursday evening from Zion Square in Jerusalem to the Temple Mount
Already in its third year, the annual Independence Day march is attended by activists demanding Jewish prayer rights on the religion's holiest site. 
One of the activists, Aaron, received a surprise phone call from a Shin Bet agent who ordered him to stay away from the Return to the Mount movement, and to "cancel tonight's march."
In another case, the Shin Bet went to far as to call activist Yair's father. The agent announced that the man's son should immediately cease his activities with Return to the Mount, as it poses a danger to himself and those around him to be involved in matters relating to the Temple Mount. 
According to the Shin Bet agent, Yair's activities could "blow up the Middle East and cause World War III."
Responding to the threats, Return to the Mount said that "ISA's conduct shows their constant preoccupation with our movement's activists. Apparently, they think that dozens of activists endanger the Middle East and are going to bring on World War III, but the Arabs who throw stones at Jews [who visit the Mount]...are legitimate protestors."
"The situation on the Temple is deteriorating and it is regrettable that no politicians have said anything about it, especially during this period of time between elections and the forming of a government."