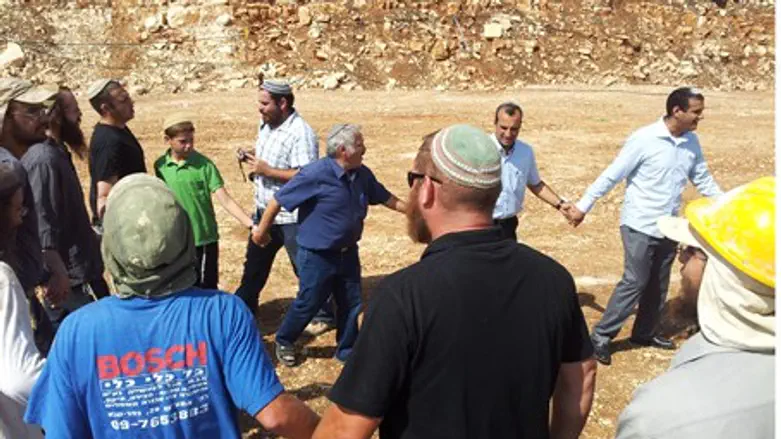 Construction in Kedumim
Yoni Kempinski
Jewish Home received endorsements on Thursday from three of the most prominent veterans in the settlement movement in Judea and Samaria – Rabbi Moshe Levinger, Rabbi Eliezer Waldan, and Attorney Elyakim Ha'etzni.
The three, who were pioneers in the movement to bring Jews to Judea and Samaria, have written a letter of support in which they urge voters to choose Jewish Home in next week's elections.
"Nearly 50 years ago, we merited returning to Judea and Samaria, the lands that we have dreamed about," the letter says. "Hilltop after hilltop, town after town, we worked hard to bring to life the vision of the Prophets, here in Kiryat Arba and Hevron, Kfar Etzion and Elon Moreh, Ofra, Kedumim, and Beit El. The belief in the justice of our path was and remains an important engine that leads our movement. With G-d's help we have been part of the historic return of the Jewish people to their lands."
With the elections coming up, the question of a government that is willing to give away those lands is once again on the agenda, the three stressed.
"Judea and Samaria are not the private holdings of one or another group, it does not matter how big a person's kippa (skullcap) is. Out of a sense of responsibility to the Jewish people, we call on everyone to vote for Jewish Home, which has and will do everything it can to support Jewish communities in Judea and Samaria, and has and will stubbornly resist and attempts to surrender land.
"Now more than ever, the party needs our votes," the letter adds.