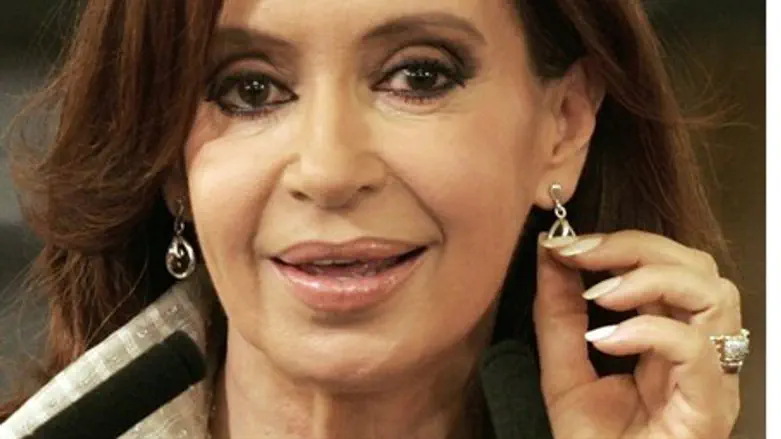 Argentina's Cristina Kirchner
Reuters
Argentine President Cristina Kirchner plans to write actress Mia Farrow and retired tennis star Martina Navratilova to respond to their recent criticism and claim to them that the scandal engulfing her is a smear campaign, officials said Thursday.
The unusual kerfuffle between the South American leader and the two celebrities erupted after Argentine prosecutor Alberto Nisman was found dead in his apartment on the eve of a Congressional hearing, at which he was expected to accuse Kirchner of covering up Iranian officials' involvement in a 1994 bombing at a Buenos Aires Jewish center.
Over the following days, as it emerged that Nisman had drafted an arrest warrant for Kirchner, Farrow and Navratilova both posted critical comments on Twitter, reports AFP.
"Looks like Argentina's Prez not only covered up 1994 bombing of a Jewish center, but also killed the prosecutor," Farrow wrote in a since-deleted tweet.
The 69-year-old American actress, star of 13 movies made with her former partner Woody Allen, also retweeted a post by Human Rights Watch director Kenneth Roth, who wrote that Nisman's death "keeps getting fishier."
Navratilova for her part wrote that it is "terrible what is going on in Argentina."
"This all stinks," added the 58-year-old American-Czech tennis great, an 18-time Grand Slam winner.
Argentine cabinet chief Jorge Capitanich said Kirchner would send letters to the two celebrities to make "the corresponding clarification." He warned of "systematic media manipulation with a strategy to discredit the position of the Argentine government and the president."
A top Kirchner aide, Anibal Fernandez, also took to Twitter to defend his boss in a flurry of posts written in English.
"I believe @MiaFarrow affirmation regarding our Prez is consequence of either misinformation or lack of it. Such a respected and committed artist and activist as @MiaFarrow is certainly aware of the perils of media bias nowadays," he wrote.
The bombing at the Argentine Jewish Mutual Association killed 85 people and wounded 300, the deadliest such attack in Argentina's history.
Nisman had revealed that Iran ordered the attack via its Lebanon-based terrorist proxy group Hezbollah, and requested arrest warrants for five Iranian officials including former president Akbar Hashemi Rafsanjani.
On January 14, four days before he was found dead, Nisman filed a report accusing Kirchner and Foreign Minister Hector Timerman of trying to shield the Iranian suspects in exchange for oil.
Kirchner, 61, has claimed Nisman was manipulated by former intelligence agents who then killed him to smear her.