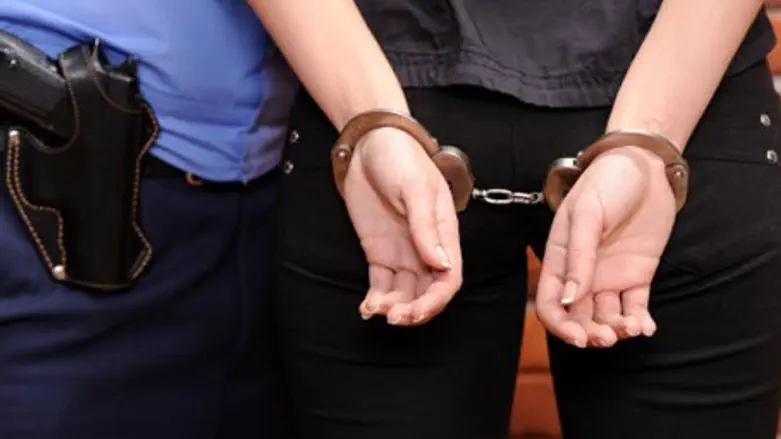 Arrest (illustrative)
Thinkstock
The central unit of Lachish police, under the command of Chief Superintendent Yigal Klimian, foiled an organized crime hit, it was cleared for publication Thursday - after a man and his young family were caught with an explosive device near Ashdod.
Last Monday, the Lachish unit arrested the 39 year-old, who was planning on planting the bomb in Ashkelon's National Park later that day. The man had been walking with his young wife and one year-old son to create the impression of a family trip. 
Police later arrested two other men set to receive the bomb and carry out the hit in Ashdod. Remand of the three has been extended to Friday and the Negev's District Attorney is expected to file charges against them.
Police noted that this is a severe case which follows two other cases of murders, or attempted murders, that occurred in the past six weeks. During anti-crime busts, the police have seized concealed weapons and grenades set aside for mob hits, they noted. Two suspects have been arrested and indicted for the hit plans.
Police further explained that the background of these cases is the power struggle between criminal organizations, which operate through local gangs in Ashdod to dominate the "grey market" for lending, and over gambling.
Southern District Commander Commander Yoram Halevy said following the operation that "this was an unusual operation of the Southern District / Central Unit of Lachish, which stopped the offenders with explosive devices and explosives minutes before the event occurred and prevented further damage to human life and innocent people."
He said, "This is an impressive achievement and another important step in fighting serious crime and a direct result of policies formed to crack down on these events and prevent them."