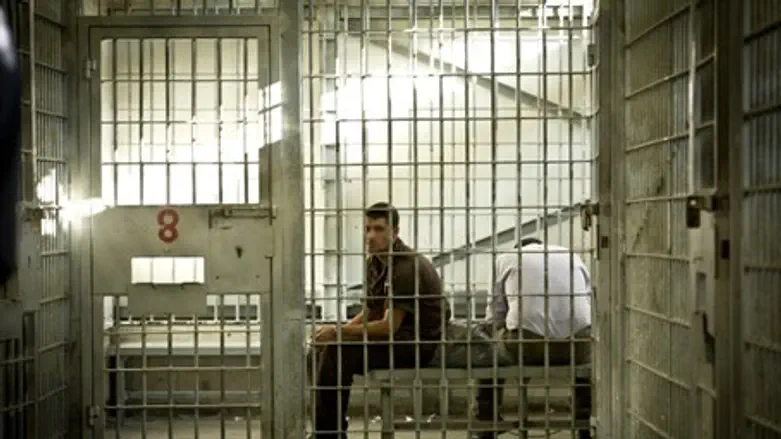 Jail (illustrative)
Flash90
The National Unit for Prison Investigations arrested a 20-year-old prison guard on Friday, after the jail guard had planned to pass a cell phone to a Fatah terrorist jailed in Israel. 
During investigation, the guard admitted that the had planned to transfer the device to the security prisoner, and that he had made similar transfers between terrorist prisoners and their organizations in exchange for thousands of euros. 
The Rishon Lezion Magistrates Court has extended his detention until Saturday, as an investigation into the crime continues. 
Cell phones are a common contraband for terrorists in Israel, who have used the devices on more than one occasion to communicate with other terrorists of their organizations to form terror cells from behind prison walls. 
In September, two Fatah prisoners in the Rimonim prison in the Negev were found guilty of soliciting an undercover officer to transfer a SIM card into the prison in exchange for 20,000 NIS ($5,061), according to Reshet Bet. Over 150 SIM cards were seized during the investigation and three people were charged with assisting a terrorist organization. 
And in May, a major Hamas terror cell busted by the Israel Security Agency (ISA or Shin Bet) had planned an elaborate kidnapping plot from behind prison walls using cell phones smuggled into the facility by family members of the terrorists involved.
This is the latest evidence of several breaches of regulations regarding contraband in Israeli prisons, after the terror cell bust, and after a prisoner who engaged in a shooting rampage and escape attempt earlier this year was found to have an "escape cache" hidden in his cell. 
Released terrorists have revealed on Palestinian Authority (PA) official TV how they enjoyed a life of ease in Israeli prisons. They have also in the past been allowed to pursue a university degree by taking academic courses